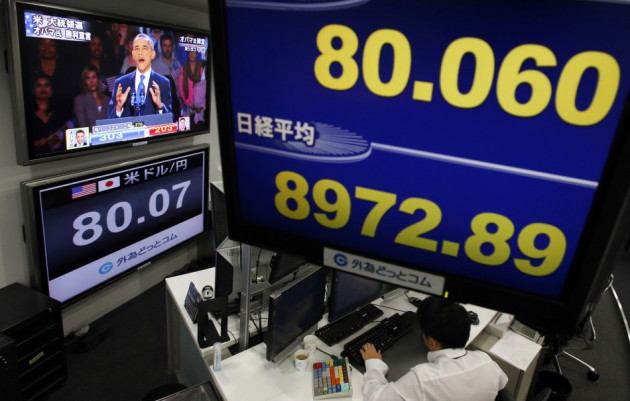 Asian markets have reversed earlier losses after Barack Obama's victory eliminated the uncertainty over US leadership but trading remained muted on concerns of global economic issues that lay in front of the re-elected President.
Japan's Nikkei average eased moderately, to end 0.03 percent or 2.26 points lower to 8972.89. South Korea's KOSPI gained 0.49 percent or 9.38 points to 1937.55.
Hong Kong's Hang Seng index gained 0.63 percent or 137.80 points to 22082.23 while China's Shanghai Composite index was down 0.01 percent or 0.27 points to 2105.73.
India's Bombay Stock Exchange, Sensex traded 0.64 percent or 120.45 points higher to 18937.83 at 09:15 GMT.
Markets started the day in the red and investors remained wary of the US Presidential elections, as reports suggested that the battle between Barack Obama and Mitt Romney would be a close contest.
The indices came off the lows following reports that the Democratic candidate secured a second term in office. But the momentum refused to pick up as concerns remained on a number of global and domestic economic issues that lay in front of Obama, the 'fiscal cliff' being the prominent among them.
But the focus may now shift to China where a once-in-a-decade leadership change is set to take place on 8 November. Although there is no uncertainty on who will lead the world's second largest economy, investors are expected to keep a close watch on the new regime's policy decisions to boost the country's slowing economy.
Major Movers
Electronics firm Yokogawa Electric Corp and Industrial plants manufacturer Chiyoda Corporation were the major losers in Tokyo, dropping 10.67 and 4.76 percent respectively.
Shares of automobile firm Suzuki Motor Corp were down 0.92 percent, following earlier reports that the company plans to exit the US car market. Nissan Motor Company extended gains, ending 4.14 percent higher, after the car-maker reported better than expected results.
Sam Whan Camus Company and Mirae Corp were the major gainers in Seoul, up 14.99 and 14.87 percent.
Property stocks gained in Hong Kong. Shares of New World Development Company gained 3.24 percent while those of Sino Land Company were up 2.55 percent. Shares of Hang Lung Properties ended 1.81 percent higher.
Shenyang Jinbei Automotive Company and Tianjin Global magnetic were the major losers in Shanghai, down 9.32 and 8.20 percent respectively.
Financial stocks traded higher in India. Shares of Housing Development Finance Corp gained 1.99 percent while those of State Bank of India were up 2.20 percent. ICICI Bank rose1.39 percent.