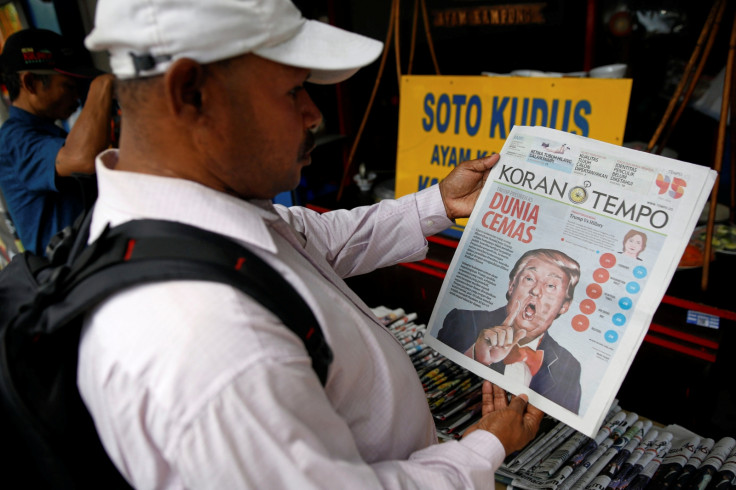 Stock markets across Asia saw healthy gains on 10 November as investors took stock of Donald Trump's surprise victory in the US presidential election.
The region's biggest stock index, the Nikkei 225, jumped 5.7% to 17,178.87 points during early trading in Tokyo to recoup all its losses in the previous trading session..
Trump's stunning upset over Hillary Clinton sent Asian markets spiralling lower on 9 November, but a widely feared global meltdown failed to materialise.
The Dow Jones, Nasdaq and S&P 500 share averages all added more than 1% overnight on Wall Street, with trading volume at its highest level since the UK voted to leave the European Union in June.
"While yesterday's escape to safe havens was hinged on the surprise result and fear of the volatility that a Trump presidency may bring, the rally overnight was likely focused on the expansionary policies the president-elect had spoken of on his campaign trail," said Jingyi Pan, market analyst at IG in Singapore.
"An inclusive and growth-focused victory speech, coupled with the pouring in of congratulatory words from world leaders that broadly reinforces ties with the US, boosted the market's confidence as well."
Rest of Asia
Shares in mainland China were up, with the Shanghai Composite index advancing 1% to 3,160.73 points, while Hong Kong's Hang Seng climbed 2% to 22,852.90.
Meanwhile, US 30-year Treasury bond yields rose to their highest levels since the start of the year, with the dollar trading at 105.23 against the Japanese yen after falling as low as 101.20 on 9 November.
Analysts said the rebound was driven by expectations that Trump's tax plan and proposed infrastructure spending would boost foreign direct investment into the US.
"Throw in trade barriers and a move to bring production back to the US means that prices will increase and in turn the Federal Reserve will have to be more aggressive in tightening policy in 2017," IG analyst Chris Weston explained.
"Trump will borrow and build – it's what he has done his whole life and it's what he will do as president of the United States."
Elsewhere, South Korea's Kospi index advanced 1.8% to 1,994.21 points.
In Australia, the S&P/ASX 200 benchmark was up by 2.7% at 5,297.70.