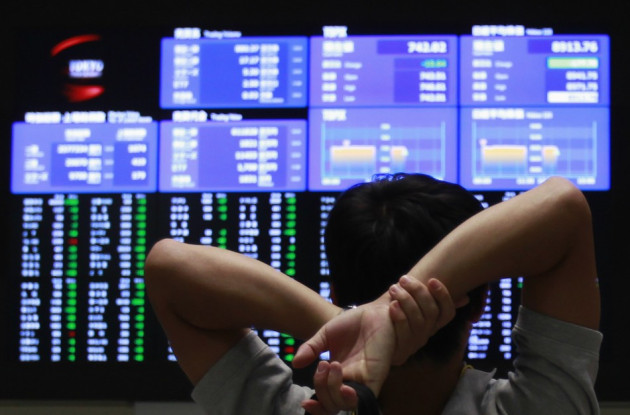 Asian markets surged in the morning after official Chinese data showed that the country's fourth quarter Gross Domestic Product (GDP) rebounded, ending seven straight quarters of slowdown.
Japan's Nikkei climbed 2.13 percent or 226.28 points to 10835.92 while South Korea's KOSPI gained 0.21 percent or 4.20 points to 1978.47. Australia's S&P/ASX 200 added 0.32 percent or 15.00 points to 4771.60.
China's Shanghai Composite Index rose 0.38 percent or 8.58 points to 2293.49. Hong Kong's Hang Seng advanced 0.59 percent or 137.10 points to 23476.86.
Chinese economic indicators remained the major focal point across the region as investors looked to the world's second largest economy in optimism. China's National Bureau of Statistics reported that its economy expanded 7.9 percent in the final three months of the year, beating the 7.8 mark predicted by analysts. Other data released alongside showed that industrial production climbed 10.3 percent year-on-year in December while retail sales surged 15.3 percent.
"Faster implementation of China's fiscal programmes after May last year, together with relaxed access for firms and local government financing vehicles to access the bond market, have propelled a steady recovery of the economy since September last year," said economists at ANZ in a note.
"As the destocking process of commodity inventory comes to an end, and sales of residential property warm up, we believe that China's growth momentum will rise at a faster pace in the coming two quarters".
Japanese stocks rebounded from the previous session's slump as the yen weakened further against the dollar and the euro, anticipating the initiation of stimulus measures by Bank of Japan at its policy meet early next week. The greenback traded at ¥89.86 after topping its highest level in about two and a half years while the single currency picked up to ¥120.21.
According to a Reuters report which cited sources close to BoJ, the central bank, under strong pressure from the newly elected government, will consider open ended asset purchase to raise the inflation level to 2 percent. Such a move would be unconventional for the central bank, which has so far opposed aggressive monetary easing measures.
Major Movers
Exporters gained in Tokyo. Shares of Mazda Motor Corp gained 7.61 percent. Sony Corp gained 6.74 percent while Nikon added 5.30 percent.
Resource stocks gained in Hong Kong. PetroChina added 2.20 percent while Aluminum Corp of China rose 2.08 percent. Shares of China Petroleum and Chemical Corp gained 2 percent each.
Mining firms remain strong in Australia. Shares of Rio Tinto advanced 3.05 percent despite the previous day's slump in London following reports of the company CEO's departure. BHP Billiton gained 0.4 percent.