Asian Markets Mixed, Nikkei Breaches 11000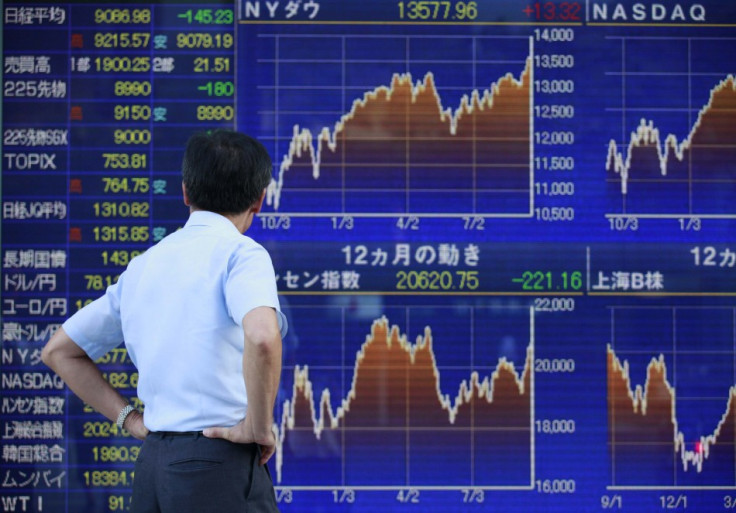 Asian markets traded mixed in the morning with Chinese stocks climbing on improved industrial profit figures and Japanese shares paring gains after the benchmark gauge crossed the 11000 mark in the early trading.
The Nikkei traded 0.08 percent or 9.25 points lower to 10917.40 while South Korea's KOSPI was down 0.64 percent or 12.39 points to 1934.30. In China, the Shanghai Composite Index gained 1.21 percent or 27.75 points to 2319.05 while Hong Kong's Hang Seng was up 0.43 percent or 101.45 points to 23681.88.
Traders had started the day mostly on a positive note following Wall Street closure with gains on the back of some strong corporate earnings reports. The S&P 500 closed above 1,500 point, posting its longest winning streak in about eight years
Chinese markets remained positive after official data released over the weekend showed that the profits made by China's industrial firms rose 7.3 percent in December from a year earlier to 895.2bn yuan, as the fourth quarter recovery made up for the weak performances in the previous months. The upbeat figures further reinforced speculations that the world's second largest economy is back of growth track. Industrial profits touched 5.56 trillion yuan in 2012, gaining 5.3 percent from the previous year.
In Japan, it was the yen's weakness against the dollar that dominated those investor sentiments. Early in the day, the greenback climbed to about 91.22 yen from the 90.93 mark reached towards the end of the previous week. Japanese government and the country's central bank had recently taken measures to boost Japan's economy, but a slew of weak indicators have brought further stimulus pressure on the authorities.
"[The yen] has been yo-yoing either side of 90 as more policy easing measures are announced and FX traders sell on the news," said Weiming Yang, Premium Client Manager at IG Markets in Singapore.
"But there seems to be a real concerted effort by the government to push the yen lower and keep it there. It says currency manipulation is not part of its plan, only to eradicate deflation and spur growth".
Japanese earnings season is getting into full swing this week and traders remain optimistic that the local currency's recent slump might have improved corporate performance. However, the anti-Japanese sentiments in China and weak European demand is still expected to have weighed heavy on Japanese firms.
Major Movers
Some of the major industrial firms fell in Tokyo. Industrial robots manufacturer Fanuc was down 5.28 percent after the company slashed its operating profit by nearly 20 percent for the year to March, citing low demand and China issues. Advantest Corp was down 4.39 percent after the Nikkei daily forecasted a fall in the firm's operating profit. Kawasaki Kishen Kaisha slipped 3.70 percent.
Financial firms traded higher in Hong Kong. HSBC Holdings gained 1.10 percent while Bank of Communications was up 0.94 percent.
Electronics major Samsung traded 2.96 percent lower in Seoul. Automobiles Hyundai and Kia were down 1.49 and 3.32 percent.
© Copyright IBTimes 2023. All rights reserved.