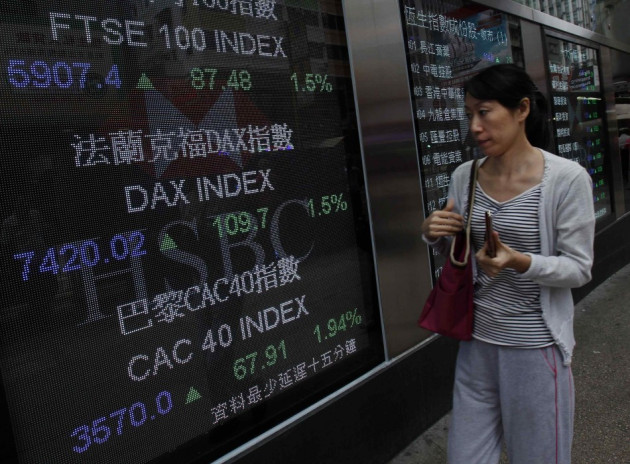 Asian markets remained mixed in the morning session after a report showed improvement in Chinese manufacturing and a Japanese survey indicated dropping business sentiments in the country.
The Shanghai Composite Index climbed 2.56 percent or 52.87 points to 2114.34 while Hong Kong's Hang Seng rose 0.66 percent or 147.51 points to 22593.09. Japan's benchmark Nikkei average slipped 0.9 percent or 8.64 points to 9734.09. South Korea's KOSPI was down 0.55 percent or 11.10 points to 1991.67.
A preliminary reading of China's Purchasing Managers Index (PMI) from HSBC showed manufacturing activity in the world's second largest economy expanded further in December. The index rose to 50.9 in the month from 50.5 in the previous. The strong figures underscored speculations that China is on track to meet growth targets in the final quarter.
"As December flash manufacturing PMI picked up further to a 14 month high, it confirmed that China's ongoing growth recovery is gaining momentum mainly driven by domestic demand conditions," said Hongbin Qu, Chief Economist, China & Co-Head of Asian Economic Research at HSBC.
The improved data cheered market sentiments, prompting Chinese stocks to jump to a seven-week peak. Traders have, of late, been cautious on the sustainability of the country's economic recovery despite recent positive indicators. But the latest data appears to have eased the fears.
But the positive sentiments failed to reach Japan after the Tankan survey showed that business sentiments in the country remained pessimistic for the fourth quarter. The Nikkei eased from gains despite the Yen remaining stubborn at its lowest levels since the end of March this year.
Global economic concerns persisted. The deadlock on the 'fiscal cliff' negotiations among US lawmakers continued amid lingering fears that the proposed spending cuts and tax hikes will push the economy into recession.
"Dialogue between Democrats and Republicans seems to be going around in circles as both parties still can't agree on what steps to take to delay the $600 billion of tax hikes and budget cuts rapidly approaching the US shoreline like a financial superstorm," said Jason Hughes, Head of Premium Client Management at IG Markets in Singapore.
Major Movers
Electronic firms traded lower in Tokyo. Shares of the camera-maker Olympus was down 2.99 percent while those of Hitachi slipped 1.87 percent.
Financial stocks rose in Chinese markets.
In Hong Kong, AIA Group climbed 2.28 percent while Ping An Insurance and China Life Insurance were up 2.05 and 1.91 percent.
The Shanghai Jinfeng Investment Company, up 10.10 percent and Zhejiang Dongri which gained 10.06 percent were the major gainers in Shanghai.