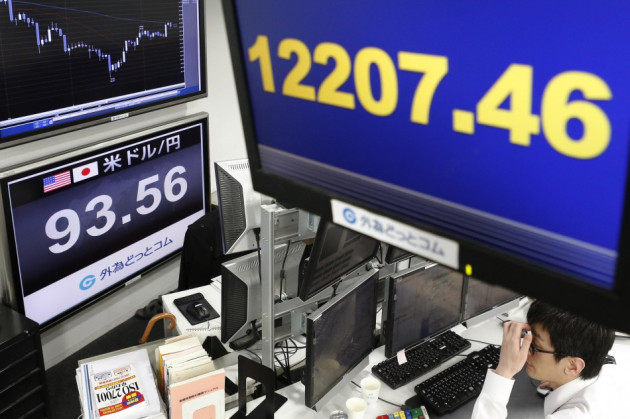 Asian markets have declined as investors remain concerned about the health of the world economy after weak data from the US and China.
Japan's Nikkei Stock Average declined 0.5% or 70.13 points to 13,729.2. Australia's S&P/ASX 200 shed 0.7% or 35.18 points to 5,131 and South Korea's KOSPI fell 0.3% or 6.71 points to 1,957.2.
In Hong Kong, the benchmark Hang Seng index declined 0.4% or 84.59 points to 22,652.4. China's Shanghai Composite Index, which opened after a three-day vacation, fell 0.3% or 6.11 points to 2,171.8.
Earlier, HSBC revised down its China manufacturing Purchasing Managers' Index for April to 50.4 from a preliminary reading of 50.5. In March, the index showed a reading of 51.6.
The data confirmed a sharp slowdown in the expansion of the world's second-largest economy's manufacturing sector, which is expected to cool China's economic growth for a second straight quarter.
Wall Street previously closed on a weaker note following a slid in payrolls and manufacturing data from the US that strengthened the yen against the dollar. The ADP National Employment Report said the US private sector added 119,000 jobs in April lower than the 150,000 forecast, while the US Institute for Supply Management said its index of national factory activity fell to 50.7 from 51.3 in March.
The increase in the value of the yen negatively affects the Japanese exporters with lower earnings. The dollar is currently trading at 97.34 yen, down 0.05%.
The US central bank had kept its bond buying pace the same at $85bn a month at the conclusion of a two-day meeting in Washington. The Federal Reserve also left unchanged its plan to hold the target interest rate near zero, given unemployment remains above 6.5% and inflation outlook does not exceed 2.5%.
Investors across the globe are awaiting the US non-farm payrolls data on Friday and the European Central Bank's (ECB) monetary-policy meeting later Thursday. The ECB is widely expected to cut interest rates by 25 basis points amid weak growth indicators from the euro area.
The Bank of Japan is expected to "enter a new phase of monetary easing" as indicated by the minutes of the Bank of Japan's last meeting in April.
In Sydney, the decline on the market came primarily from the resource sector that suffered further selling pressure after a drop in commodity prices overnight.
Major Movers
In Tokyo, steel producer JFE Holdings fell 4.3%, Nippon Paper Industries declined 3.8% and heavy machinery company Komatsu dropped 3.4%.
In Australia, shares of mining giant BHP Billiton dropped 0.7%, and Fortescue Metals Group shed 2%.
Among the major losers in Hong Kong, China Merchants Holdings International fell 3.5%, PetroChina shed 2.2% and Bank of East Asia was down 2.4%. In Shanghai, the decline was led by the property and resource sectors, with Jiangxi Copper declining 3.2% and Gemdale dropping 1.1%.