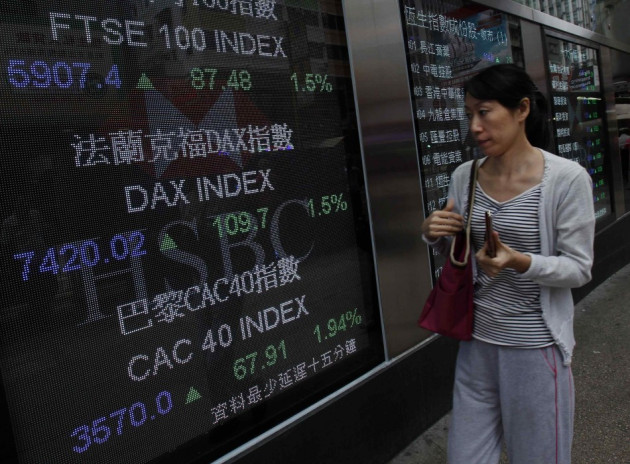 Most Asian indices have ended higher on the back of strong manufacturing data from China and a weak Yen, even though major regional firms reported weak earnings.
Japan's Nikkei ended 0.21 percent or 18.58 points higher to 8946.87 while South Korea's KOSPI was down 0.71 percent or 13.62 points at 1898.44.
China's Shanghai Composite index gained 1.72 percent or 35.55 points to 2104.43. Hong Kong's Hang Seng index rose 0.62 percent or 134.27 points to 21776.09.
India's Bombay Stock Exchange, Sensex, traded 0.23 percent or 43.31 points higher to 18,560.35 at 08:48 GMT.
Official data from China's Bureau of Statistics showed that the country's October manufacturing activity jumped to 50.2 compared to 49.8 in the previous month.
Separately, HSBC Purchasing Managers' Index (PMI) for China showed improvement, gaining to 49.5, from the final reading of 47.9 in September.
Traders in Tokyo were encouraged after the Yen weakened against the Dollar and Euro, but remained concerned on the corporate earnings after some of the major companies in the region posted weaker than expected results.
Sentiments remained weak in Seoul after an HSBC survey showed that manufacturing activity in the country failed to leave the contractionary territory in October, although improving to 47.4 from 45.7 in the previous month.
Eurozone concerns lingered as uncertainties on Greek and Spanish bailout continued. Greece is yet to reach a conclusive agreement with international lenders regarding its bailout package. Spain, on the other hand, insists that it does not require monetary aid, despite a weak financial condition.
Major Movers
Shares of Panasonic ended 19.46 percent lower in Tokyo after the company reported a loss of $9.6bn for the fiscal year. Shares of Sony Corp ended 4.09 percent down ahead of its earnings report while those of TDK Corp and Fuji Film Holdings fell 4.70 and 4.38 percent respectively after the companies revised profit estimates.
Technology major Samsung Electronics fell 0.99 percent in Seoul. Shares of automobile firms Hyundai Motor Company and Kia Motors Corp were down 3.79 and 0.83 percent respectively.