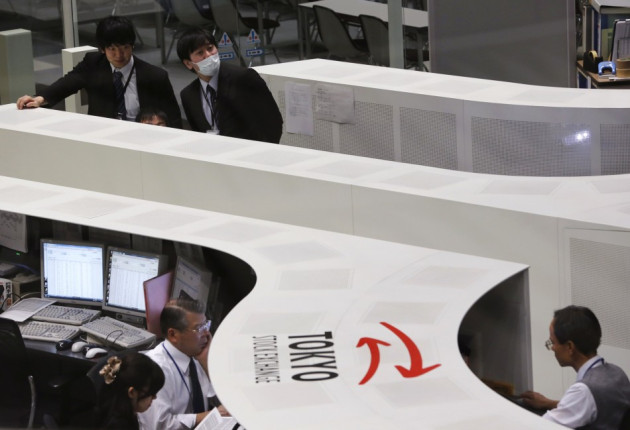 Asian markets rose in the morning session as China's December exports expanded more than expected and the Yen slumped to fresh lows against the Dollar.
The Nikkei traded 0.95 percent or 100.86 points higher to 10679.43 while South Korea's KOSPI gained 0.51 percent or 10.16 points to 2001.97. Australia's S&P/ASX 200 rose 0.41 percent or 19.20 points to 4727.30.
In Hong Kong, the Hang Seng climbed 0.99 percent or 230.12 points to 23448.59 while mainland China's Shanghai Composite Index added 0.65 percent or 14.69 points to 2290.03.
Markets had started the day trading mostly in tight ranges following modest gains on the Wall Street as US earning season kicked off. But sentiments propelled after Chinese authorities reported a $31.6bn trade surplus in the month of December on the back of exports that rose 14.1percent year-on-year.
The data added to hopes that the world's second largest economy is well on track to report strong fourth quarter growth figures despite lacklustre demand in Europe and the United States. Chinese economy had slowed to 7.4 percent in the third quarter.
Japanese traders turned optimistic after the Yen returned to the recent weak levels against dollar. The greenback climbed to well above the ¥88 mark, encouraging currency-sensitive stocks in Tokyo. Traders remain hopeful that the aggressive stimulus measures supported by Japan's newly elected Prime Minister will help the country's lagging economy.
European Central Bank's policy meet is set to take place later in the day. In December, the central bank had left doors open for rate easing measures and investors are keeping a close watch for further action.
Major Movers
Automobiles and electronics firms gained in Tokyo. Mazda Motor Corp, which gets majority of its earnings from outside Japan, was up 11.30 percent while Nissan Motor Company gained 1.42 percent. Isuzu Motors added 4 percent after the company announced plans of a tie-up with General Motors. Panasonic and Sony Corp were up 3.66 and 2.88 percent respectively.
South Korean automobiles too traded higher. Hyundai gained 0.96 percent in Seoul while rival Kia was up 0.55 percent.
Hong Kong property stocks, which are often sensitive to Chinese economic indicators, gained. Shares of New World Development Company was up 3.71 percent while those of Wharf Holdings rose 2.54 percent.