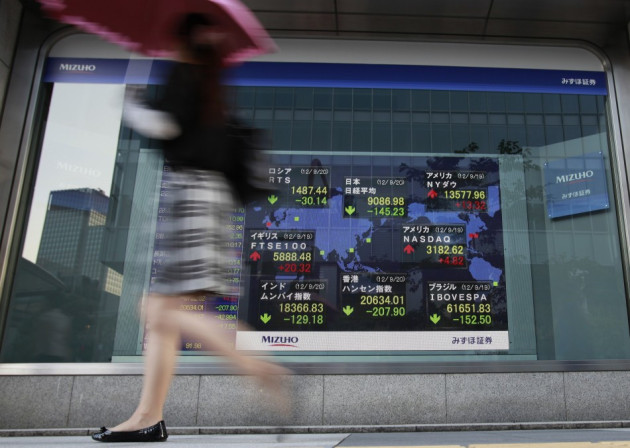 Asian markets ended the day in the green as investors remained encouraged by improved regional quarterly reports amidst positive news on the Greek bailout.
Japan's Nikkei average closed 0.98 percent or 86.31 points higher to 8928.29 while South Korea's KOSPI was up 0.66 percent or 12.48 points to 1912.06.
China's Shanghai Composite index gained 0.32 percent or 6.53 points to 2068.88. Hong Kong's Hang Seng index rose 0.83 percent or 177.23 points to 21605.81.
India's Bombay Stock Exchange Sensex was trading 0.38 percent or 70.30 points higher to 18501.15 at 09:31 GMT.
Most markets had opened higher supported by better earnings reports and full-year growth forecasts from some of the major companies in the region.
The Eurozone returned to focus after Greek Prime Minister Antonis Samaras said that the country had finalised the terms for a financial bailout with international lenders in spite of opposition within the ruling coalition.
However, Spain is yet to seek monetary aid. The country's Prime Minister continued to insist that Spain, which struggles with an unemployment rate of 25 percent, does not require immediate bailout.
Investors were waiting for the US markets to open after the two day closure due to superstorm Sandy. Although the storm is expected to cause minor damage to the country's economy, investors remain cautious of the immediate impact on trading.
Traders in Seoul were encouraged after official reports showed that the country's industrial output gained 0.8 percent in September from the previous month.
Major Movers
Carmaker Fuji Heavy Industries ended 6.68 percent higher after the company revised its annual operating profits upwards. Shares of All Nippon Airways Company were up 5.63 percent on reports that the company posted a 61.6 percent increase in half-year operating profit.
Electronic majors Toshiba Corp and Panasonic Corp gained 4.59 and 4.47 percent respectively. Shares of Sony Corp were up 2.80 percent.
The pharmaceutical sector ended higher in Seoul. Kun Wha Pharmaceutical Company gained 14.99 percent while shares of Korea United Pharm Inc and Myungmoon Pharm Company were up 14.97 and 14.96 percent.
Meanwhile tinancial sector gained in Hong Kong. China Construction Bank gained 2.28 percent while Bank of China and New World Development Company were up 2.24 and 2.04 percent respectively. Shares of Industrial and Commercial Bank of China rose 1.99 percent.
Transport related stocks gained the most in Shanghai. Shares of Jinxi Axle Company gained 10.04 percent while those of Sinotrans Air Transportation Development Company were up 10.02 percent.
Automobile shares gained in India. Shares of Maruti Suzuki India gained 3.11 percent. Tata Motors and Mahindra & Mahindra gained 2.24 and 1.34 percent respectively.