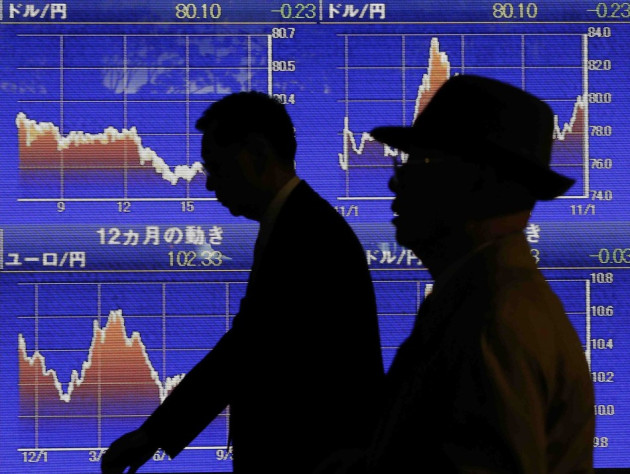 Asian stocks have ended in the green, buoyed by improved Chinese manufacturing data and weak Yen, ahead of the budget negotiations in the European Union.
Japan's Nikkei ended 1.56 percent or 144.28 points up to 9366.80 while South Korea's KOSPI gained 0.82 percent or 15.46 points to 1899.50.
Hong Kong's Hang Seng index climbed 1.02 percent or 218.84 points to 21743.20. China's Shanghai Composite index slipped 0.72 percent or 14.71 points to 2015.61.
India's Bombay Stock Exchange, Sensex traded 0.34 percent or 62.23 points to 18522.61 at 07:59 GMT
A preliminary Purchasing Managers Index (PMI) released by HSBC showed that China's manufacturing grew to 50.4 in November, treading into the expansionary territory for the first time in 13 months. The improved indicators added to hopes of the Chinese economy reaching government-set target levels by the final quarter.
Though the data encouraged traders in the region, markets in mainland China remained negative on speculations that People's Bank of China may not lower the reserve-ratio requirement as previously hoped.
Leaders from the European Union are set to meet in Brussels later in the day for negotiations on the bloc's next budget. A difference of opinion among the member states regarding the spending levels has caused speculations that the officials may not be able to reach a consensus on the matter easily.
Investors are keeping a close watch on the budget as Europe still remains a major market for Asian exporters. Asian shipments to Europe have slipped significantly in the recent past, as the debt crisis and austerity measures hurt consumer demand.
Exporters Gain
Japanese exporters continued to rally on the weak Yen. Automobile major Honda ended 3.50 percent higher while Toyota and Nissan gained 2.33 and 2.87 percent respectively.
Shares of Canon gained 3.26 percent. Nikon and Olympus ended 3.86 and 3.05 percent higher.
South Korean exporters too gained. Samsung Electronics rose 2.38 percent while LG Electronics was up 1.18 percent. Shares of Daewoo Electronic Components were up 1.66 percent.
Property stocks rose in Hong Kong. China Resources Land ended 3.48 percent higher. China Overseas Land & Investment and Sino Land climbed 2.12 and 1.95 percent respectively.
Nanjing Pharmaceutical Company and Guangzhou Pearl River Industrial Development Company ended lowest in Shanghai, down 6.33 and 6.77 percent.
Banking stocks traded higher in India. Shares of State Bank of India were up 1.66 percent, followed by HDFC Bank, which gained 0.99 percent.