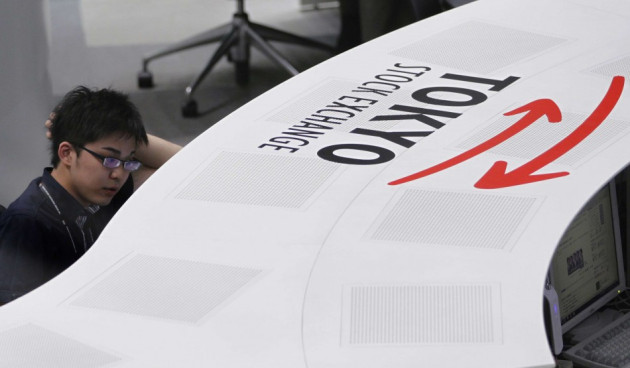 Asian markets extended gains in the morning with Japanese stocks rallying to the highest levels of this year on Yen's weak run, but traders remained cautious on US budget talks.
The Nikkei traded 0.80 percent or 82.12 points higher to 10405.10 while South Korea's KOSPI rose 0.36 percent or 7.10 point to 1994.45. In Hong Kong, the Hang Seng gained 0.13 percent or 29.57 points to 22649.35. China's Shanghai Composite Index remained little changed at 2206.00.
Japanese investors continued to remain positive as the Yen plunged to its lowest depths in more than two years on monetary easing hopes after the Liberal Democratic Party (LDP) took office. The new Prime Minister Shinzo Abe has called for aggressive efforts from the Bank of Japan (BoJ) with the aim to keep the Yen at depreciated levels.
Stimulus expectations were boosted further after official data from Japan's Ministry of Economy, Trade and Industry showed that the country's industrial production dropped 1.7 percent in November. A private-sector survey also showed that Japan's manufacturing slumped at the quickest pace in over three years in December.
The Nikkei looks all set to finish the year with most gains since 2005, gaining over 20 percent in the year-to-date.
But despite the upbeat Japanese sentiments, the US 'fiscal cliff' continues to concern investors. Although analysts were largely optimistic that lawmakers will reach a consensus before time runs out, it now appears highly likely that a deal may not see the light of the day.
US President Barack Obama has called for a meeting with congressional leaders at White House for an eleventh-hour effort to find a solution to the tax hikes and spending cuts that threaten to push the economy into recession.
Major Movers
Exporters traded higher in Tokyo. Mazda Motor Corp was up 4.22 percent while Isuzu Motors gained 2.86 percent. Electronic majors Toshiba and Nikon rose 4.05 and 2.47 percent respectively.
Shares of Toyota were up 1.65 percent despite reports that the company agreed to pay $1.1bn to settle a US lawsuit.
Electronic firms traded higher in Seoul as well. Shares of Samsung were up 1.27 percent while those of Sunny Electronics gained 13.35 percent.
Retailer Belle International and utility firm China Resources Power Holdings were the major gainers in Hong Kong, up 3.05 and 1.46 percent respectively.