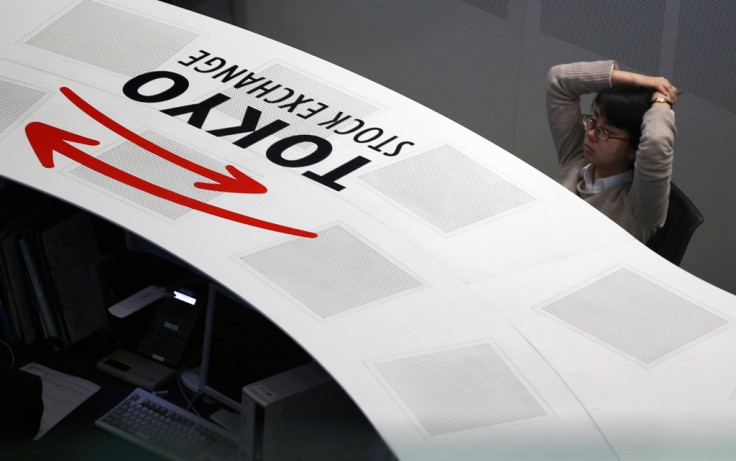 Asian markets traded lower on 7 May, dragged down by concerns over tighter margin trading rules in China, growth worries in Australia and a weak handover from Wall Street.
The Japanese Nikkei finished 1.23%, or 239.64 points, lower at 19,291.99.
The Shanghai Composite finished 2.77%, or 117.05 points, lower at 4,112.21.
Hong Kong's Hang Seng finished 1.27%, or 350.94 points, lower at 27,289.97.
Australia's S&P/ASX finished 0.82%, or 46.50 points, lower at 5,645.70.
South Korea's Kospi finished 0.65%, or 13.58 points, lower at 2091.00.
India's S&P BSE Sensex finished 0.44%, or 118.26 points, lower at 26,599.11.
Market movements
The Nikkei reopened for trade today after a three-day holiday.
The Shanghai Composite was pulled down by concerns over further government measures curbing speculation and the possibility that new stock offerings could drain funds from existing equities.
Meanwhile, Morgan Stanley downgraded the MSCI China index - which captures large and mid-cap Chinese firms listed in Hong Kong - to equal-weight, from overweight, marking the first downgrade in seven-and-a-half years.
Morgan analysts said in a 7 May report: "Dramatic recent outperformance has led to a deterioration in absolute and relative valuations and a technically overbought situation."
The ASX was pulled down by concerns over whether the Reserve Bank of Australia (RBA) will halt its easing cycle despite wavering economic growth.
On the data front, the Australian economy lost 2,900 jobs in April, missing expectations for a creation of 5,000 jobs and significantly lower than the 37,700 jobs added in March.
ANZ Research said in a note to clients: "As expected, today's labour force data were softer than what we have seen in recent months. Employment actually fell in the month for only the second time in the past six months, while March's strong increase was revised upward even further. Overall, the labour market is largely tracking in line with expectations."
Capital Economics said in a note: "The 2,900 drop in Australian employment in April brought to an end a strong run for the country's labour market and pushed up the unemployment rate.
"Although we would be wary of reading too much into monthly changes in such a volatile data series, we do think that the unemployment rate will rise more sharply than most analysts expect over the rest of the year."
Elsewhere, the Sensex ended at its lowest level in about six-and-a-half months. The benchmark index suffered on continued selling by foreign investors amid the uncertainty surrounding retrospective taxation rules in India.
Company stocks
In Tokyo, education and publishing firm Benesse Holdings tanked 18.33%, dragged down by news that it had logged a net loss for the financial year ended March.
Industrial robots maker Fanuc lost 3.52% while mobile carrier Softbank lost 3.36%.
But Renesas Electronics finished 7.12% higher after the Nikkei business daily reported that the firm was expected to log a net profit of over 80bn yen for the year ended 31 March.
In Seoul, Cheil Industries lost 10.66%, pulled down by local media reports that said that parent Samsung Group will not turn the fashion and leisure firm into a holding company.
Shinhan Financial and steelmaker Posco lost 3.17% and 2.42% respectively.
Mobile carrier SK Telecom lost 3.31% after its first-quarter net income missed expectations.
In Mumbai, India's largest car maker Maruti Suzuki lost 2.52%.
Coal India, the world's biggest producer of the fuel, gained 2.21%.