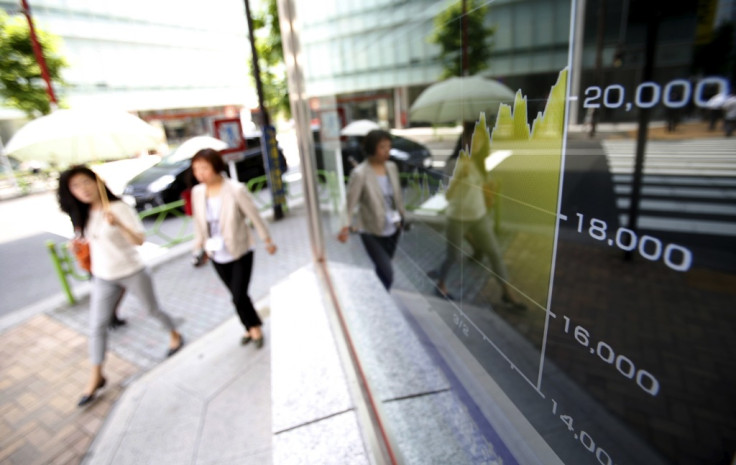 Asian markets outside Sydney and Seoul pared losses on 1 June after Chinese equities rallied on data that pointed to improving factory activity in China.
The Japanese Nikkei finished 0.03%, or 6.72 points, higher at 20,569.87.
The Shanghai Composite finished 4.71%, or 216.99 points, higher at 4,828.74.
Hong Kong's Hang Seng finished 0.63%, or 172.97 points, higher at 27,597.16.
Australia's S&P/ASX 200 finished 0.72%, or 41.80 points, lower at 5,735.40.
South Korea's Kospi Composite finished 0.59%, or 12.43 points, lower at 2,102.37.
India's S&P BSE Sensex finished 0.07%, or 20.55 points, higher at 27,848.99.
Market movements
The Nikkei has finished in green territory for 12 days in a row, marking its longest winning streak since February 1998. The benchmark index has gained some 18% so far this year.
The Shanghai Composite rose after twin PMI's for May revealed that factory activity in the world's second-largest economy was improving. The world's best performing market has gained some 49% so far this year.
The Chinese government's purchasing managers' index (PMI), which surveys large companies, rose to 50.2 in May from 50.1 in April, in line with forecasts from a Reuters poll, and above the 50-threshold separating expansion from contracting activity.
The Final HSBC PMI reading, which focuses on small and mid-sized enterprises, remained in contraction for a third month at 49.2, but beat April's 49.1 reading.
Gerry Alfonso, director of Shenwan Hongyuan Securities, said in a note to clients: "The PMI figures, both the official one and the HSBC one, were very close to the consensus view and they can be interpreted as a further normalization in the economy."
Capital Economics said in a note: "[1 June's] PMI readings suggest that although external demand remains weak, an uptick in domestic demand – likely the result of recent policy support – is now helping to ease downward pressure on growth."
Company stocks
In Tokyo, airbag maker Takata lost 2.78%.
In Shanghai, FMCG player Liuzhou Liangmianzhen surged 10.01%.
Citic Securities shot up 7.11%, GF Securities gained 5.69%, Haitong Securities rose 5.32% and Founder Securities added 5.16%.
China Everbright Bank jumped 5.80%, Bank of China rose 4.16%, Agricultural Bank of China added 3.57% and Industrial and Commercial Bank of China gained 3.16%.
In Seoul, Hyundai Motor lost 2.22% while steel maker Posco lost 2.05%.
In Mumbai, JLR-parent Tata Motors lost 1.96%.