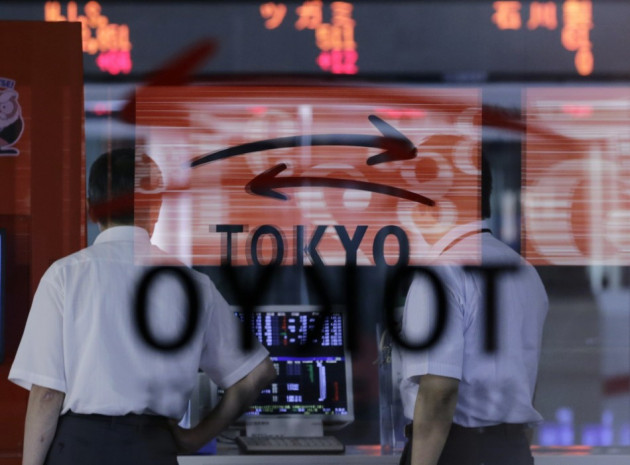 Most Asian markets have ended in the green as investors were encouraged by Spain's decision to consider international aid and better economic indicators from the US.
The Nikkei gained 1.44 percent or 123.38 points at 8701.31, while South Korea's KOSPI was up 0.83 percent or 15.95 points to 1941.54.
Hong Kong's Hang Seng rose 0.28 percent or 58.82 points to 21207.07. The Shanghai Composite index ended flat at 2098.81.
India's Bombay Stock Exchange traded 0.38 percent or 71.12 points lower to 18642.43 at 10:03 GMT.
Markets were upbeat following reports that Spain's finance ministry said that the country is considering seeking aid from the European Union in a bid to manage the country's struggling economy. Reports also suggest that Spain is looking for a credit line to meet ECB requirements for bond purchases rather than an immediate bailout package.
Concerns on Greece too eased after the country's prime minister assured that Athens would receive the much needed bailout package soon, although officials added that it may not reach a deal before the EU summit later this week.
Economic data from the US was positive as well. The US Commerce Department announced that the country's retail sales jumped 1.1 percent in September indicating a boost in consumer confidence.
Quarterly earnings data from US firms added to the cheer. Financial major Citigroup reported better than expected third quarter results even after suffering a year on year decline in net income. Earlier, JP Morgan and Wells Fargo too had reported better figures.
"Of the 38 companies that have so far reported, 27 have beaten estimates. And all this before the effects of QE3 have made their way into the economy," commented Justin Harper, market strategist at IG Markets.
Major Movers
Mobile carrier Softbank gained in Tokyo following its announcement to buy 70 percent stake in the American telecom firm Sprint Nextel for a sum of $20.1 bn.
The weakening yen encouraged investors to buy shares of export firms. Automobile major Toyota was up 1.17 percent while Nissan was up 1.04 percent. Honda gained 0.78 percent.
Electronics firm Sony gained 2.40 percent while Canon gained 0.68 percent.
Exporters gained in Seoul as well. Samsung Electronics ended 2.31 percent higher while LG Electronics gained 0.82 percent. Automobile majors Kia Motors and Hyundai Motors rose 1.36 and 0.89 percent respectively.
Financial firms with international exposure were up after better quarterly results from Citigroup. Mizuho Financial Group gained 1.64 percent while Sumitomo Mitsui Financial Group rose 1.61 percent.
Property firms ended higher in Hong Kong. China Overseas Land & Investment gained 2.27 percent while China Resources Land was up 5.13 percent. Hang Lung Properties gained 1.15 percent.
Apparel related firms Orient International and Shanghai Kaikai ended higher in Shanghai, by 10.07 and 10.03 percent respectively.
Automobile major Tata Motors fell 2.41 percent in India following reports that sales of its Jaguar Land Rover dropped 4 percent year on year. Shares of auto maker Mahindra & Mahindra slid 3.43 percent after Credit Suisse downgraded the company stocks from "outperform" to "neutral".