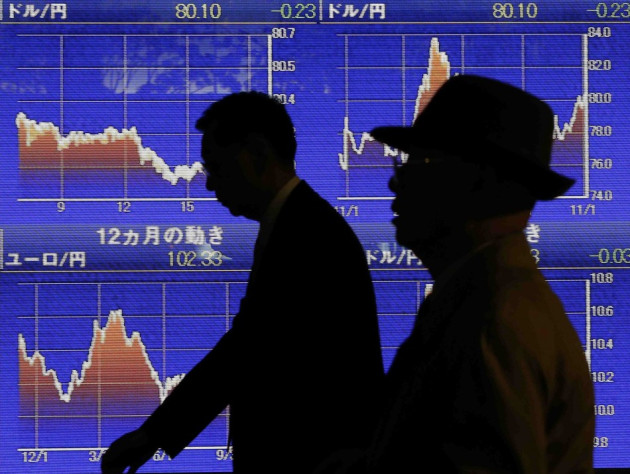 Asian stocks climbed in the morning boosted by the fresh stimulus announcements from US Federal Reserves and the Yen's drop against the Dollar.
Japan's Nikkei traded 1.57 percent or 150.75 points to 9732.21 while South Korea's KOSPI was up 0.51 percent or 10.07 points to 1985.51. Hong Kong's Hang Seng Index gained 0.19 percent or 43.69 points to 22547.04. China's Shanghai Composite Index was up 0.14 percent or 3.01 points 2079.72.
At the conclusion of a two-day policy meet, the US Federal Reserve committed to $45bn monthly long term Treasurys purchases, taking extra measures after the monthly $40bn mortgage-backed bonds launched in September. This was expected, but what surprised at least some analysts was the central bank's decision to hold interest rates at ultra-low levels, citing the stubborn unemployment rates in the country.
"The Fed's primary concern regarding the US economy remains the very weak state of the labour market," said Amber Rabinov at ANZ Research.
"The FOMC will continue purchasing MBS and USTs until the labour market 'improve[s] substantially,' and may 'employ other policy tools' until the desired improvement is achieved."
The Fed's announcements saw the Dollar making sharp gains against the Yen. The greenback climbed above ¥83 for the first time in about nine months, boosting exporter stocks in Tokyo.
The Bank of Japan is set to meet for a policy review next week and is expected to initiate further monetary easing measures to boost the country's sluggish economy. Japan is heading for polls on 16 December, which may see the pro-stimulus, current opposition Liberal Democratic Party (LDP), take office.
The Bank of Korea has held interest rates steady for the second month as it assesses the impacts of rate cuts made earlier this year and the latest easing measures from the Federal Reserve.
Analysts feel that South Korea may not look to ease rates further any time soon as the US economy shows signs of improvement. But the country does have a number of issues to be worried about, including its neighbour North Korea's recent defiant rocket launch.
Major Movers
Electronic stocks were up in Tokyo. Panasonic gained 7.17 percent while Sharp was up 5.96 percent. Automobile firm Mazda gained 5.15 percent.
Food products firm Want Want China Holdings traded highest in Hong Kong, up 1.66 percent, followed by financial firm COSCO Pacific, which gained 1.59 percent.
Shanghai Pudong Development Bank and Guangzhou Baiyun International Airport were the major losers in China dropping 0.36 and 0.15 percent respectively.