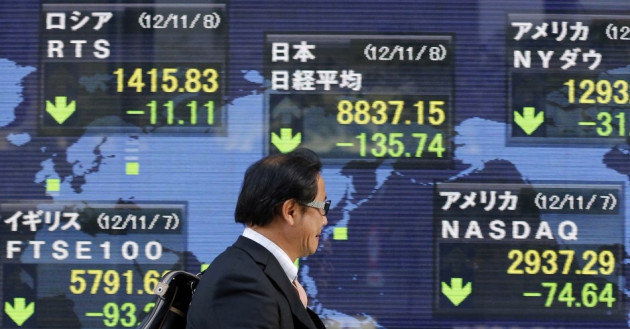 Asian markets extended gains in the morning trade as improved US manufacturing and Chinese service-sector figures added to the cheers of 'fiscal cliff' solution.
MSCI's index of Asia-Pacific stocks excluding Japan rose 2.14 percent. Australia's S&P/ASX gained 0.53 or 25.10 points to 4731.00 while Hong Kong's Hang Seng Index added 0.29 percent or 66.99 points to 23378.97. South Korea's KOSPI slipped 0.39 percent or 7.91 points to 2023.19 falling back after opening higher.
Japanese and Chinese markets remain shut for a holiday.
"A bridge across the fiscal cliff was finally put in place last night sending equities to dizzying heights across the globe," said Jason Hughes, Head of Premium Client Management at IG Markets in Singapore.
"Traders should enjoy this relief rally while they can as risk assets surged on news that US politicians have finally agreed on a compromise that involves higher taxes for America's wealthiest".
The Wall Street had earlier closed higher on upbeat sentiments with the S&P breaking the highest single-day gains in over a year. Dow industrials posted its all-time best first-session performance.
US manufacturing figures released by the Institute of Supply Management (ISM) pointed to improved performance in December, with the index rising to 50.7 from 49.5 in the previous month. A reading above 50 indicates expansion in the sector.
Asian traders were also bullish on regional economic indicators released early in the day. China's official service-sector manufacturing Purchasing Managers Index (PMI) rose to 56.1 in December from 55.6 in the previous month. The robust figures follow strong official and non-official manufacturing figures released in late December.
South Korea's finance ministry announced that the administration will use 60 percent of the 2013 budget in the first six months of the year to boost the country's economy by creating more jobs, infrastructure spending and support for the poor.
Major Movers
Electronic and automobile stocks traded lower in Seoul. Shares of Samsung were down 1.78 percent while those of SK Hynix dropped 0.19 percent. Kia and Hyundai Motor Company fell 2.84 and 4.63 percent respectively.
Property-related firms gained in Hong Kong. Shares of China Resources Land rose 4.24 percent while those of China Overseas Land and Investment were up 1.46 percent.