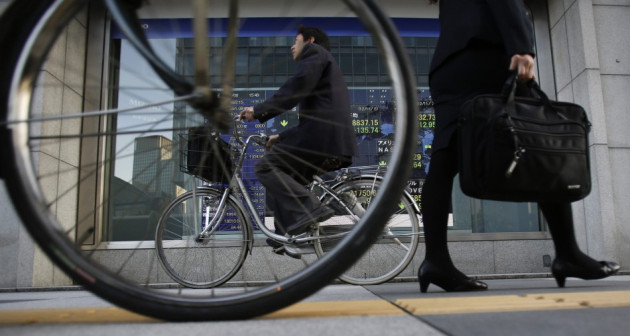 Asian markets dropped in the morning after data showed that US manufacturing slipped to its lowest level in three years and the Yen gained against the Dollar.
Japan's Nikkei traded 0.31 percent or 29.46 points lower to 9428.72. Nippon Electric Glass Company, down 4.43 percent and Hokuetsu Kishu Paper Company, which fell 4.27 percent were the major losers.
South Korea's KOSPI was down 0.53 percent or 10.35 points to 1929.67. Pharmaceutical firms Wooridul Life Sciences and Wooridul Pharmaceutical traded lowest, dropping 14.92 and 14.88 percent respectively.
Hong Kong's Hang Seng index slipped 0.19 percent or 40.73 points to 21727.12. Casino operator Sands China fell 2.90 percent while real estate firm Sino Land Company was down 1.88 percent.
China's Shanghai Composite index dropped 0.33 percent or 6.40 points to 1953.36. Media firm Chengdu B-Ray Media fell the most, down 9.99 percent, followed by Anhui Quanchai Engine Company, which dropped 6.30 percent.
The Wall Street had ended lower earlier after data from the US Institute of Supply Management (ISM) showed that manufacturing activity in the world's largest economy contracted in the month of November. The index dropped to 49.5, below the estimated reading of 51.7. A reading below 50 indicates contraction in the sector.
The slowdown weighed the dollar down against the Yen, prompting Japanese investors to be wary of currency-sensitive stocks.
The Eurozone manufacturing data too disappointed. According to Markit Eurozone Manufacturing Purchasing Managers' Index, manufacturing rose to 46.2 in November from October's 45.4, remaining in the contractionary territory.
The weak indicators offset positive manufacturing figures from China released earlier. The country's official PMI and a final reading from HSBC's PMI had shown that manufacturing activity in the world's second largest economy expanded in November.
Concerns on the fiscal cliff negotiations in the US continued to impact investor sentiments. The deadlock over the spending cuts and tax hikes continued after the White House rejected a Republican proposal, saying it did not meet the requirements.