Asian PMI: Most Countries Show Weakening Trend in Manufacturing, India and Vietnam See Uptrend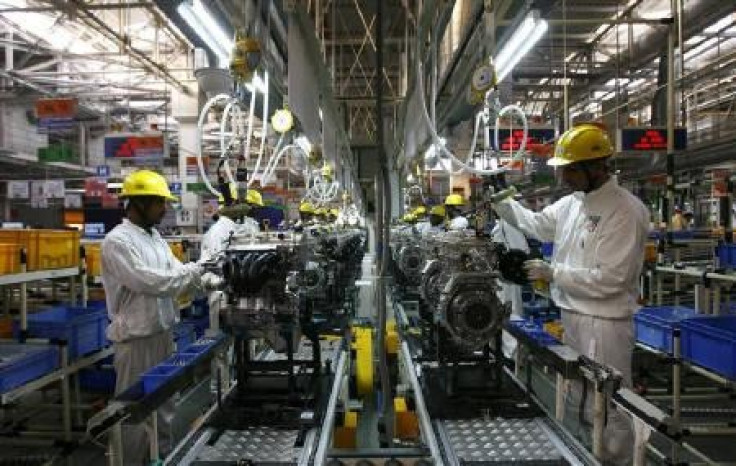 Markit's manufacturing PMI for South Korea, Taiwan, Vietnam and Indonesia have declined while Chinese and Indian numbers edged higher in October, the research firm said.
South Korea
The HSBC/Markit PMI for South Korea slipped to 48.7 from 48.8 in September, with operating conditions faced by the manufacturers worsened for the second consecutive month.
"This reflects downside risks to the economic outlook. Low demand was to blame as it weighed on production and employment," said Ronald Man, HSBC's Korea economist.
Analysts at HSBC expects the Korean authorities to keep policy rates supportive for growth.
"The Bank of Korea decreased its policy rate back to its post- GFC low in October. We forecast the central bank to keep its policy rate at 2.00% over the foreseeable future," Man said.
Vietnam
Markit said though the PMI has slightly decreased in October, the business conditions in the Vietnamese manufacturing sector improved in the month as output and new orders increased.
The PMI came in at 51.0, down slightly from 51.7 in September, but business conditions have now strengthened in each of the past 14 months, Markit said.
"Vietnam is on a gradual path to economic recovery. The October PMI shows that the manufacturing sector continues to expand on higher export orders, highlighting the country's competitiveness in labour intensive manufacturing," said Trinh Nguyen, Asia Economist at HSBC.
Analysts at HSBC said Vietnam's employment index has grown sharply, a positive sign of manufacturers' outlook for future demand.
"We expect the sector to continue to grow on better external demand. What's left is for domestic sectors to kick in, allowing Vietnam to return to its long-run average."
Taiwan
October PMI data from Taiwan signalled a further loss of growth momentum in the manufacturing sector.
The headline index dropped to 52.0, down from 53.3 in September, and signalled only a modest improvement in operating conditions.
Furthermore, the rate of improvement was the weakest since September last year, with the headline index declining further from August's 40-month high of 56.1, Markit said.
"October's PMI data confirms that Taiwan's manufacturing sector is going through a period of more subdued growth," said John Zhu, Economist at HSBC.
"While employment is still increasing marginally, the slowdown in both domestic and external demand is likely to pose downside risks to the recent improving trend in labour market conditions."
Indonesia
Operating conditions in the Indonesian manufacturing sector worsened in October, reversing the modest improvement reported during September, Markit said.
The headline index fell to a 14-month low of 49.2, down from 50.7 in September.
Contractions in output and new orders mirrored the overall deterioration in business conditions, Markit said.
Staffing levels also fell during the month, while inflationary pressures from input costs and output charges intensified.
"Indonesian manufacturing activity continues to waver. While the contraction in the PMI in October was not sharp, conditions are clearly on the weak side," said Su Sian Lim, HSBC's ASEAN Economist.
"With both new orders and new export orders looking soft, and work backlogs down for a fifth straight month, the outlook for the sector remains tepid."
India
In India, PMI continued the upward trend observed throughout the past year in October, and led by intermediate goods this month, Markit said.
The October manufacturing PMI rebounded from September's nine-month low of 51.0 to 51.6.
"Manufacturing activity picked up modestly amid stronger output and new order flows, particularly from overseas clients," said Frederic Neumann, co-head of Asian Economic Research at HSBC.
"Meanwhile, the improvement in growth allowed firms to raise margins by increasing output prices slightly. This trend could strengthen with growth, which is why the RBI will remain cautious about relaxing its grip at this juncture."
China
The final estimates of the Markit/HSBC PMI data showed the new orders and new export orders sub-indices revised downward while the employment and inventory sub-indices revised upward.
The headline manufacturing index stood at 50.4, up from September 50.2, and unchanged from the preliminary data.
"Overall, the manufacturing sector continued to stabilise in October, however the sequential momentum likely weakened. The economy still shows clear signs of insufficient effective demand," said Hongbin Qu, the HSBC China economist.
"We still see uncertainties, given the property downturn as well as the slow pace of global recovery, and expect further monetary and fiscal easing measures in the months ahead," Qu said.
© Copyright IBTimes 2023. All rights reserved.