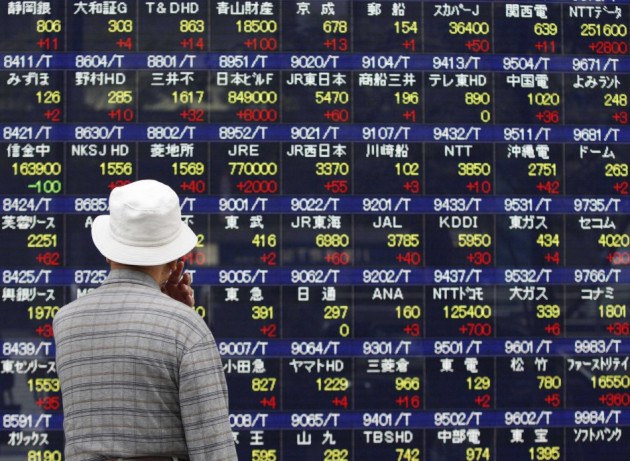 Asian stocks have gained in the morning trade following strong global cues as traders awaited the conclusion of the US Federal Reserve's policy meet.
The Nikkei climbed 0.46 percent or 44.07 points to 9569.39 while South Korea's KOSPI gained 0.33 percent or 6.40 points to 1971.02. Hong Kong's Hang Seng Index advanced 0.66 percent or 147.34 points to 22471.28. China's Shanghai Composite Index was up 0.15 percent or 3.01 points to 2077.71.
European markets were boosted by an unprecedented rise in the German economic sentiment in the previous session while the Wall Street closed higher on renewed hopes that the US lawmakers will reach a deal that can avoid the looming 'fiscal cliff' crisis.
The Federal Reserve's two-day policy meet is set to conclude later in the day and the central bank is expected to launch fresh monetary stimulus measures to replace its current programme. Analysts suggest that Fed may initiate fresh monthly purchases of Treasurys worth of $45bn, adding to the $40bn mortgage-backed security purchases that it launched in September.
The Dollar firmed against the Yen to 82.55 on speculations on the Fed's plans. Hopes of monetary easing measures from the Bank of Japan also weighed on the Yen as recession concerns increase in the country.
Investor sentiments in Tokyo saw slight improvement after official data showed that machinery orders in the country rose 2.6 percent in October after dropping for two straight months. But economists opine the rate failed to meet expectations, increasing speculations that the economy will sink further into recession in the final quarter of the year.
The 'fiscal cliff' negotiations continue to remain the picture as investors wait for the US lawmakers to find a middle ground to avoid the $600bn rise in taxes and cuts in spending that threatens to push the world's largest economy into recession.
In latest developments, the White House and House Representatives Speaker John Boehner is said to have initiated fresh proposals on the issue, indicating modest progress in the negotiations.
Meanwhile, eurozone sentiments picked up after a survey showed that German economic sentiments gained in December.
Major Movers
Exporters climbed in Tokyo. Shares of Mitsubishi Motors were up 7.59 percent while those of Sharp gained 4.59 percent. Panasonic and Nikon rose 4.09 and 3.50 percent respectively.
Construction-related firms traded higher in Shanghai. Xinjiang Urban Construction Company gained 10.05 percent while Shaanxi Construction Machinery Company was up 9.97 percent.
Property stocks gained in Hong Kong. Shares of Sun Hung Kai Properties were up 1.83 percent while those of Hang Lung Properties rose 1.55 percent.