ASOS and Pull & Bear under fire for listing pair of UK size 10 shorts as 'large'
Critics have said it promotes a negative body image.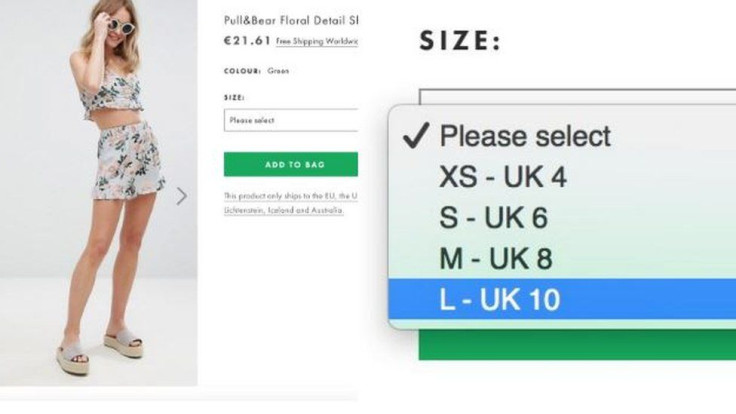 ASOS and the clothing brand Bull & Bear have come under fire for listing a pair of UK size 10 shorts as "large".
Twitter user Hollie posted a screenshot of the shorts, which has been liked more than 3,500 times and shared nearly 1,000 times.
The shorts are from the company Pull & Bear but are being sold on the ASOS website.
Many people have criticised both brands for promoting a negative or unhealthy perception of body image among women.
One user, Maeve McQuillan, wrote: "I was size 10 once in my life ever & it was when I was anorexic so calling it 'Large' is Not Good @asos @pullandbear."
"In Zara, a 12 is an XL... it's just not statistically accurate," she added.
One person wrote: "No wonder girls think they're fat when a large is a size 10."
"Ok @asos since when is a size 10 a large. I must be extra extra extra extra extra extra large then lol," another tweeted.
The company Pull & Bear is owned by the Spanish firm Inditex, which owns Zara, Mango and Bershka.
The sizes listed from Pull & Bear are not UK sizes, but matches the sizes XS to XL with European sizes. It lists "large" as a EU 40, which is a UK size 14, rather than a 10.
The majority of other similar brands, including Topshop and Boohoo, list their clothing by dress size.
ASOS responded on Twitter: "Thanks for making us aware of this – we're now looking into it with the relevant team."
© Copyright IBTimes 2023. All rights reserved.