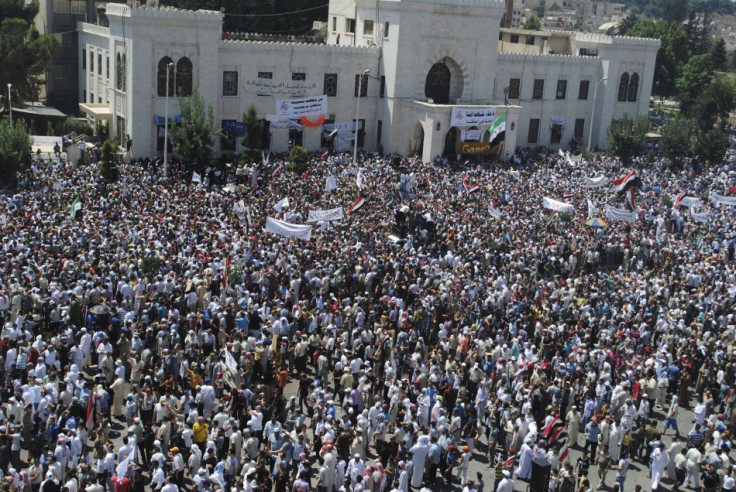 Following months of protest and violence in Syria, where the Assad regime has been accused of launching a brutal crackdown on protesters, President Obama has called for the Syrian president, Bashar al-Assad, to step down.
"For the sake of the Syrian people, the time has come for President Assad to step aside," the U.S.A. President said.
Secretary of State Hillary Rodham Clinton also spoke about the sanctions, as the administration wants to increase the pressure on Assad and his supporters.
Reports also suggest that the United States had announced their intentions to its Arab and European allies, before rumours of the new move emerged in the press.
While the U.S. has in the following months repeatedly criticised and condemned the violence, recent comments by the Secretary of States, Hillary Clinton led observers to pre-empt the administration's attitude shift.
"It's not going to be any news if the United States says Assad needs to go," Clinton said on Tuesday, during an appearance at the National Defense University in Washington. "O.K. Fine. What's next? If Turkey says it, if King Abdullah says it, if other people say it, there is no way the Assad regime can ignore it."
France and Germany also called for Assad to step down, and the regime has been criticised by members of the international community for months, but until now, Assad appeared to brush off calls for him to step down, so it is unlikely the U.S. move will have an immediate effect.
A call from Obama, Sarkozy and Merkel for Assad to step down however will show the leader his refusal to tolerate the opposition's protests have only ostracised him from the international community.
Moreover, the new sanctions are likely to target the leader's inner circle.
After Syrian protesters called for an end to his regime, Assad deployed tanks and ground troops to quash the rebellion and regain control of areas where anti-regime protests were gaining momentum.
The military assault by the Syrian security forces, has escalated dramatically since the start of the holy month of Ramadan in August, with Assad's forces killing hundreds and detaining thousands.
Ahead of the U.S. announcement, a U.N. human rights team in Geneva said Thursday that Syria's crackdown "may amount to crimes against humanity" and should be referred to the International Criminal Court. U.N. High Commissioner for Human Rights Navi Pillay is expected on Thursday afternoon to urge the U.N. Security Council to make that referral.
Investigators found "a pattern of human rights violations that constitutes widespread or systematic attacks against the civilian population." In their report, they said they had compiled a confidential list of 50 alleged perpetrators at "various levels" of Assad's government.
Despite Syria insisting it has been fighting armed groups and gangs, rights groups accuse Syrian troops of killing more than 1,800 civilians since mid-March.
Jordan's foreign minister said Thursday that his country is "angered" and "extremely worried" by the killings of civilians in Syria but stopped short of calling for the Syrian leader to step down, while Switzerland recalled its ambassador.
On Wednesday, Tunisia also recalled its ambassador to Syria, joining in with the countries that try to step up pressure on Assad's regime.
Another former ally of Assad, Turkey, also showed the regime is losing its legitimacy when Turkish Prime Minister Recep Tayyip Erdogan compared Assad to Libya's Moammar Gadhafi for refusing to heed calls to change.
In New York on Wednesday, U.N. Secretary-General Ban Ki-moon spoke to Assad demanding the immediate end of all military operations and mass arrests. In response, Assad said military and police operations had stopped.