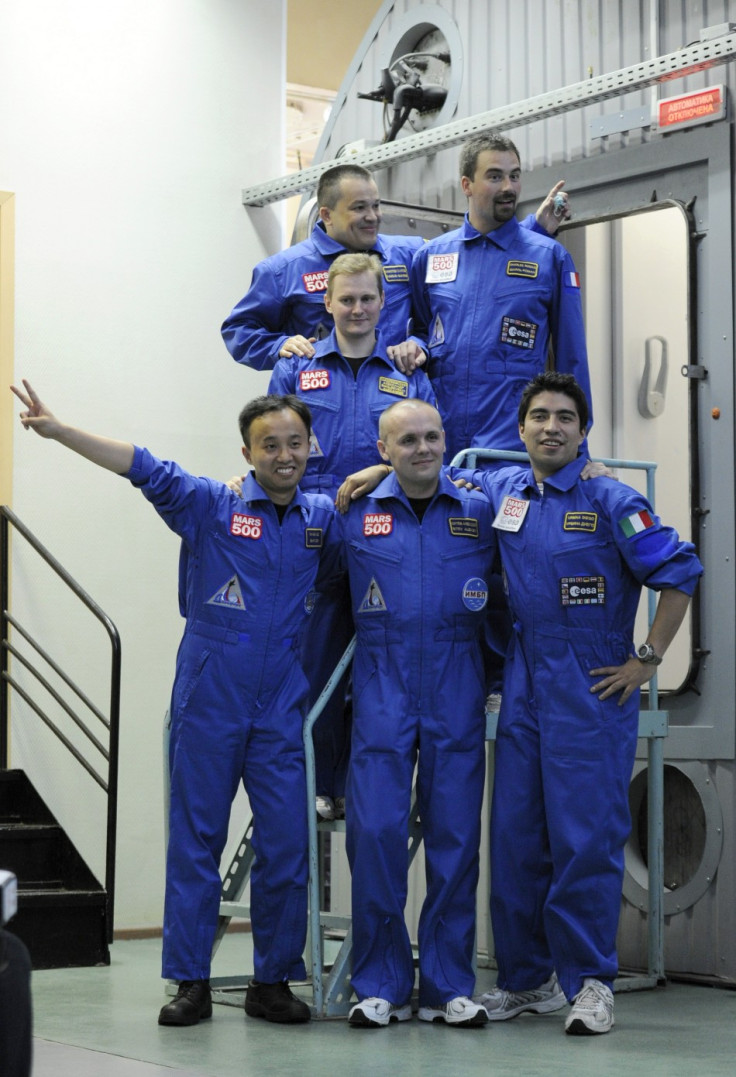 Six volunteers have spent 520 days in isolation locked in steel tubes to simulate a mission to the Red Planet.
The Mars500 project was intended to ask whether the human mind and body could cope with the stresses of a voyage of more than six monthsinto space.
The $15 million (£9.4 million) put the crew of six men, one form China, Italy and France and three from Russia, in a 72-square-meter 'spaceship' in Moscow to mock the isolation of a return journey from Mars. The experiment even included a replica walk on the Martian planet by walking across a sandy yard.
While the six men did not experience weightlessness or solar radiation, the would-be astronauts did take daily urine samples, eat rations and did not shower often.
"The research we have points to levels of high stress," said Igor Ushakov, the head of the Russian Institute for Biomedical Problems which runs the "spaceship."
"The most difficult thing for them was being starved of information."
It is expected the crew will give a quick statement on their 'return' before being taken away into quarantine for three days of medical checks.
For most of the 520 day Mars500 project, the six man crew have only had limited contact with the outside world. Their 'spaceship' had no windows and their communications endured a similar time lag to if they were on an actual mission to mars.
"The key principle is to take it step by step to return them to the world which they left," Ushakov told Reuters.
"Spending 520 days with people from different groups, different nationalities, different mentalities is not simple at all. They have behaved very worthily," said Mark Belakovsky, the project's deputy director.
"It was not designed to be a PR thing but I think it naturally evolved to be quite a positive and comprehensive advertisement for what we might eventually do next," said Martin Zell, the European Space Agency head of human space flight operations.
A previous 420-day experiment ended in disaster in 2000, when two volunteers got into a fight and a third forcibly tried to kiss a female crew member. This could have possibly been the reason why there was no female member on this project.
Each of the participants is expected to receive around $100,000 (£60,000) for their work.