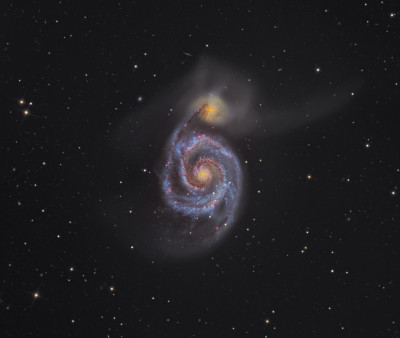 Spectacular view of the spiraling galaxies, the last transit of Venus for 105 years, dazzling green lights of the aurora borealis and a host of exceptional photographs capturing the deep space have competed for the Royal Observatory's Astronomy Photographer of the Year 2012.
The competition, now in its fourth year, is organised by the Royal Observatory Greenwich and Sky at Night Magazine.
The categories for the competition included Deep Space, Earth and Space, Our Solar System, Young Astronomy Photographer of the Year, People and Space, Best Newcomer and Robotic Scope Image of the Year.
Australia-based photographer Martin Pugh has won the top prize of £1,500 for the Photographer of the Year Award with his image capturing the incredible details of the famous Whirlpool Galaxy (M51).
It shows the galaxy's spiral arms with the faint tails of light that show M51's small companion galaxy being gradually torn apart by the gravity of its giant neighbour.
Pugh had secured the award for a second time since the beginning of the competition.
"The photographer has made the most of exceptionally good atmospheric conditions to capture an astonishing range of detail in his image of this iconic galaxy; the beautiful spiral structure, dark lanes of dust, and the way the pink clouds of hydrogen really stand out," said competition judge and Royal Observatory Public Astronomer Dr Marek Kukula.
The best photographs, including those of the winners, runners-up and special prize awardees, are being exhibited in the Royal Observatory's Astronomy Centre. The free exhibition is open to the public from 20 September to February 2013.
"Many of the pictures have been taken with equipment that was out of the range of the amateur many years ago. I also like the choice of subjects: photographing people and the night skies is very difficult. The entrants have done very well indeed," said Sir Patrick Moore of The Sky at Night.
Slide through the pictures for an awe-inspiring experience of deep space and to get a glimpse of winning images: