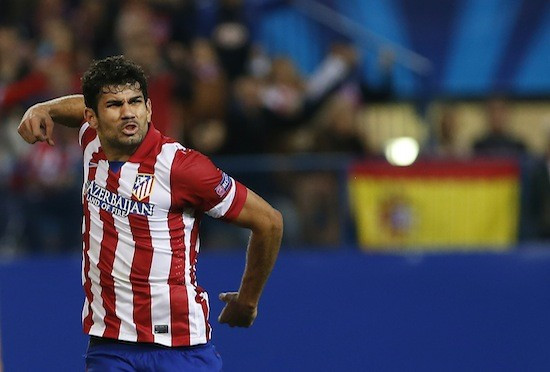 Atletico Madrid manager Diego Simeone has confirmed that Chelsea are interested in signing Diego Costa and admits the Spanish international may leave the Vicente Calderon at the end of the season.
Spanish Newspaper El Confidencial reported recently that Costa has already told Chelsea boss Jose Mourinho he wants to join the Blues in the summer, and the Premier League club are set to trigger his new £50m release clause to complete the deal.
And Simeone has now fuelled that speculation, claiming that Costa may move to Stamford Bridge at the end of the season.
"It depends on him [Diego Costa] and what he believes is best for his future. I will support any decision" Simeone confirmed in an interview with Spanish radio station Onda Cero.
"It's normal that Chelsea are interested in him. They have great economic potential. Eto'o is getting older and Diego Costa could do his job, but for now, he's ours."
Should Costa complete his move to Chelsea he would become the latest high-profile exit from Atletico Madrid after the departure of Fernando Torres, Sergio Aguero and Radamel Falcao in recent years.
"Other strikers have left Atletico but the competitiveness always remained. Every striker who has left the club has always been replaced with one that was better than the one who'd just left. And look at all the great strikers who have left," the boss added.
"Costa has room for improvement. He's rebellious and I like that. Hopefully he doesn't stop growing. It depends on what he wants to do. Today, he's among the candidates for the Ballon d'Or."
Meanwhile, Simeone suggested that Costa will be ready to play in the Champions League semi-final against Chelsea, even though the Spanish international suffered a leg injury after colliding with the post in scoring Atletico's second goal in their 2-0 win over Getafe.
"I'm not worried," he added. "Gabi came and told me he cut his leg and that's what stayed with me in my head. He risked his leg, but he is a bull.
"What he showed at that moment is what we represent. All of the players on this team do it. And Costa, in that gesture, exemplified how we want to play every game like it was our last."