Atletico Madrid manager Diego Simeone has welcomed recent reports claiming that Manchester United are interested in securing the services of Spanish Under-21 international Saul Niguez. The Argentinian manager is unlikely to let the midfielder or any of his players go during the current transfer window but claims that the interest of big clubs in the Atletico stars make him "very happy" because it means that they are doing a great job.
Spanish radio station Cadena Cope claimed that the Premier League giants were ready to launch a bid of around €20m (£15m, $21.8m) to lure the 21-year-old versatile midfielder to Old Trafford. The reports claimed that Simeone was reluctant to part ways with the player, after he had become a crucial member of his squad since the long-term injury of Tiago, being Atletico Madrid's second top scorer this season, just behind Antoine Griezmann and ahead of both Fernando Torres and Jackson Martinez.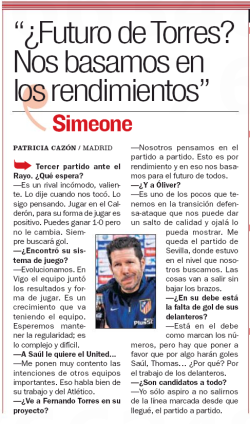 Cope later contacted Saul's father to enquire about the intentions of the midfielder. He insisted the midfielder is "happy" at the Vicente Calderon while warning United that his buy-out clause clause is set at €45m (£34m).
He said to Cope: "I just heard about this through the newspapers and the TV, we knew nothing. He has always said he wants to succeed at Atletico Madrid. Saul's release clause is €45m. The kid is happy at the club, they are counting on him, the team is doing well, top of La Liga. A lot of things would have to happen for him to leave."
"The coach is counting on him, he has his confidence. Logically things change radically, because a player aged 21 who is not playing, he needs to look at other things. If he is not playing, it is logical for him not to be happy. But at the moment everything has changed, he is very happy with what is happening with the team, he is playing, and the team is doing well."
Simeone, meanwhile, has claimed it is a positive thing that clubs like United express interest in the Atletico Madrid players, although this will probably not change his plans to keep Saul in his squad.
"It makes me very happy the intentions of other important teams in (trying to sign our players)" the manager said as quoted by AS when asked about United interest in Saul. "This speaks really well about the work that Atletico and our players are doing."
The Argentinian boss, meanwhile, refused to confirm Atletico Madrid plans over Torres, with the former Chelsea striker out of contract at the end of the season.