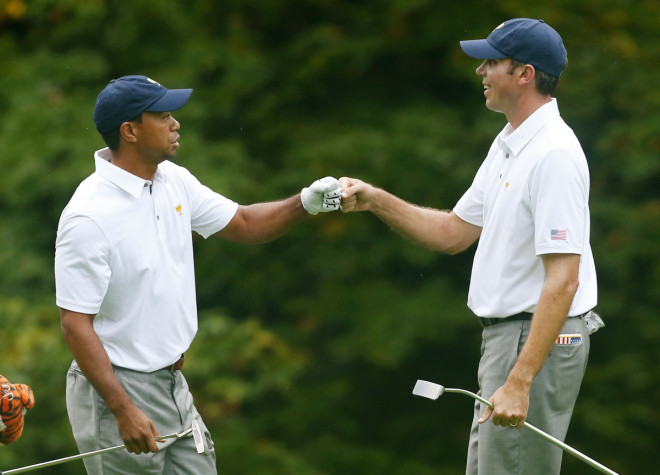 Tiger Woods' absence from the Masters will not significant damage the 2014 tournament according to world No.11 Matt Kuchar.
The 38 year old will miss the Augusta National event for the first time in nearly two decades and is another blow to the American's attempts to equal Jack Nicklaus' major record of 18 after confirming he will undergo surgery on a pinched nerve in his back.
Woods, a four-time Masters winner, withdrew from the Honda Classic in early March with a back problem before suffering a recurrence of the injury during the WGC-Cadillac Championship in Miami, but Kuchar is unperturbed by his nonappearance.
"It's the Masters," said Kuchar. "It's still the greatest golf tournament. Certainly, the Masters will not suffer. It's definitely exciting.
"I think everyone wants Tiger to be healthy and playing well and in contention. Most guys dream of taking Tiger down, battling him down the stretch at the Masters. We won't have that chance this year but we'll still have a chance to don a Green Jacket.
"We experienced a year without him. He is the centre of the PGA Tour sphere. He attracts the most eyeballs, the most attention, but there are a lot of great players out here and I think the Tour held on quite well, stayed pretty healthy, while he was absent."
The 14-time major winner has seldom missed major tournaments even since having anterior cruciate knee ligament surgery following his victory at the US Open in 2008.
The withdrawal has seen odds against him matching Nicklas' major haul lengthern but Woods admits he had little choice than to go under the knife to repair the problem.
"After attempting to get ready for the Masters, and failing to make the necessary progress, I decided, in consultation with my doctors, to have this procedure done," said Woods.
"I'd like to express my disappointment to the Augusta National membership, staff, volunteers and patrons that I will not be at the Masters.
"It's a week that's very special to me. It also looks like I'll be forced to miss several upcoming tournaments to focus on my rehabilitation and getting healthy."