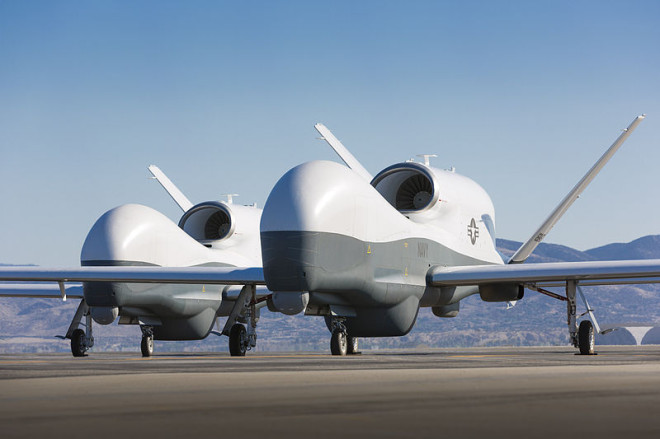 The Australian government is to purchase a fleet of giant high-tech unmanned flying drones as part of a new defence plan to protect key maritime and energy assets in the Indian Ocean.
The Northrop Grumman MQ-4C Triton has a bigger wingspan than a Boeing 737 passenger jet and can remain airborne at 55,000ft (16,759 metres) for 33 hours. Originally developed for the US Navy, the drone features radar and camera systems that can send real-time images to ground stations.
Canberra will not confirm how many drones it is buying or how much they will cost until 2015, the year before they go into operation. Prime minister Tony Abbott has confirmed that the government will invest AUS$140m (£76m) in building Triton facilities at the Royal Australian Air Force (RAAF) Edinburgh base in Adelaide.
That would boost the state's economy by at least AUD$100m.
"These aircraft will patrol Australia's vast ocean approaches, and work closely with other existing and future Australian Defence Force assets to secure our ocean resources, including energy resources off northern Australia, and help to protect our borders," Abott said at a press conference.
"Given that Australia has responsibility for something like 11% of the world's oceans, it's very important that we've got a very effective maritime surveillance capability."
The move to purchase Tritons is part of Australia's plans to upgrade its military surveillance technology.
The government announced in February that it was replacing the RAAF's ageing Lockheed AP-3C Orion drones, which saw action during the Afghanistan war, with new Boeing P-8A Poseidon maritime surveillance manned aircraft costing AUS$4bn.
Abbot also announced that the government planned to invest AUS$78m in developing the Wedgetail airborne early warning and control aircraft together with aircraft manufacturer BAE.
Shipbuilders in Victoria, South Australia and New South Wales have been petitioning the Australian government to bring forward navy projects to ensure work after current contracts conclude but Abbott said the investments were not being made to provide more work.
"We are not looking at defence as some kind of job creation programme," he said. "We are looking at defence as a defence of the nation programme and it's important to make that absolutely crystal clear."
Australia's 2013 defence white paper set out a vision of both manned and unmanned aircraft to aid the Navy in search and rescue, illegal immigrant patrols, Japanese whaling ship observations and the fight against illegal fishing.