Australia and India to Sign Free Trade Agreement by End of 2015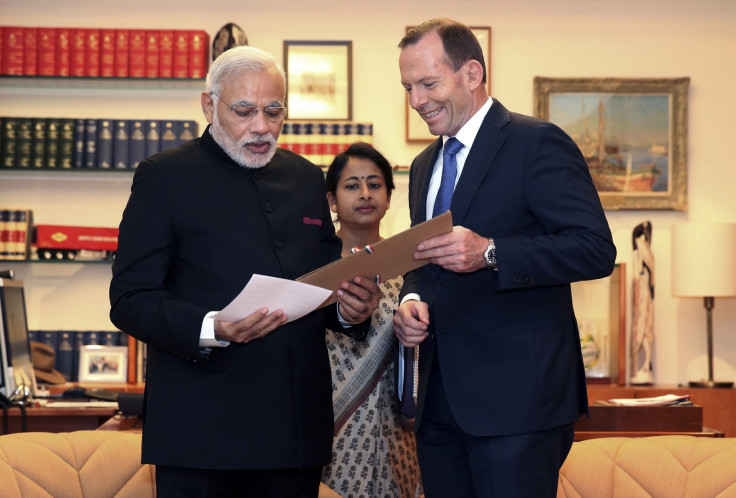 Australia has continued to move forward with its ambitious free trade plans, vowing to reach an agreement with India by the end of 2015.
Just a day after finalising the text on its long-negotiated free trade agreement with China, the Australian government welcomed Indian Prime Minister Narendra Modi to Canberra. Prime Minister Tony Abbott told negotiators to "crank up" discussions with a view to concluding the deal next year.
"We are not resting on our laurels. We want to go further. Our next priority is an economic partnership agreement with India,'' Abbott said, referring to the trio of agreements brokered with China, Japan and South Korea in recent months.
The negotiations began in 2011. Considering the Chinese discussions lasted for 10 years, completing the agreement by the end of 2015 would mark a significant fast-tracking.
Bilateral trade between Australia and India was just A$15bn (£8bn, $13bn) in 2013, around one-tenth the size of the economic relationship enjoyed by Australia and China.
However, both sides have expressed their wishes to deepen ties, with Modi telling Abbott that India "will be the answer to your search for new economic opportunities".
The free trade agreement would give Australian access to India's 1.3 billion strong consumer market – with an estimated half billion members of its burgeoning middle class.
Abbott said: "By the end of next year we will have a free trade deal with what is potentially the world's largest market, and I want to make this declaration here in this Parliament, there are two "can-do PMs" in this chamber today and we will make it happen."
A statement on the Australian Department of Foreign Affairs and Trade said the areas of business to benefit most would be the agriculture, energy, manufacturing, mining and services sectors.
Business leaders have welcomed the news with the Vice-Chair of the Australia-India Business Council (AIBC) Sheda Nandkeolyar saying: "After the meeting, there will be definitely traction in terms of bilateral relationship and there will definitely be a positive output. Though the results would take time to show, but, I think, both sides are open to business and there will be new opportunities which will be coming up."
It's the first state visit to Australia by an Indian leader for 28 years. Modi has been in Australia since the weekend's G20 Summit and has also moved quickly to reach a nuclear agreement and to establish a security pact.
The Indian Ministry of External Affairs said of the security pact on its website: "They have decided to establish the Framework for Security Cooperation to reflect the deepening and expanding security and defence engagement between India and Australia, and to intensify co-operation and consultation between Australia and India in areas of mutual interest."
In addition to the public sector pacts, the Indian company Adani Enterprises has won support from the state-owned State Bank of India (SBI) to help finance a coal mining project in Australia.
Adani's founder Gautam Adani signed a memorandum with SBI for a $1bn loan which would help construct the mine, rail and port project in Queensland. Furthermore, the Queensland government will take minority stakes in the project.
Related
© Copyright IBTimes 2023. All rights reserved.