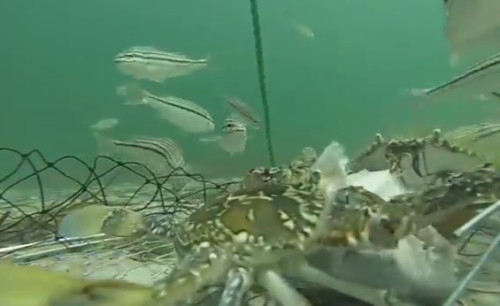 A video showing the day in the life of a crab has gone viral on YouTube, with almost a million hits in just three days.
The video, by Scott Murray, 28, from Perth, has inadvertently become an internet hit, showing the marine wildlife and food chain off the coast of Western Australia.
Murray was in Bunbury visiting his parents for Christmas and got a Go Pro camera as a gift.
He tried out his new toy by attaching it to a crab net to see what would happen.
The footage he got back showed a diverse and busy ecosystem all looking for an easy meal.
In the video, viewers see Murray attatching a piece of bate to a crab net before lowering it into the Leschenault Inlet, off the coast of Busselton.
Immediately, it is swarmed by fish who grab at the piece of meat. Once on the sea floor, two crabs emerge and have a fight over the food. Eventually, once the meat is gone, so too is the marine life.
Murray repeats the experiment and eventually captures a stingray feasting on the piece of meat.
Called Day in the life of a Crab net, Murray said he had not intended anyone to see the five minute video.
According to Western Australia Today, he said: "I only uploaded it to YouTube because I couldn't email it to my dad – when I went to bed yesterday it had about 6000 views, then in the morning there was more than 250,000, it was crazy,."
The video has met with hugely positive reception, with viewers seemingly fascinated with the footage: "This is one of the coolest things I have ever seen," one said.
Another, called Devin Lockman, added: "This is absolutely the most interesting, fascinating, coolest video I've ever watched on YouTube. Words can't describe how much I was hoping he'd pull the crab trap up with the sting ray in it!"