Australian Grand Prix, F1 2016: Where to watch qualifying live and practice review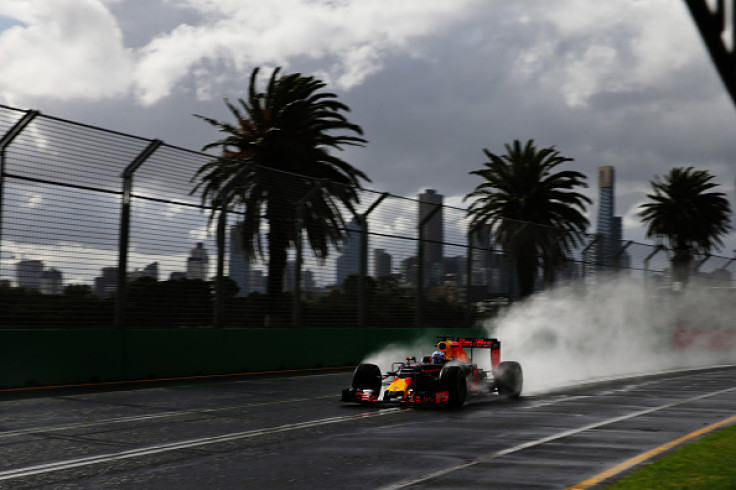 The first and second practice sessions at the season opening Australian Grand Prix was marred by intermittent showers making life difficult for all drivers to put in a consistent number of laps. While, reigning World Champion Lewis Hamilton was quickest in both sessions, teammate Nico Rosberg crashed out in the second session.
Cars were in garages for long spells, with most of the drivers taking to intermediate wet weather tyres. The weather is expected to remain the same on Saturday, but race day is expected to be rain free, according to weather forecasts.
Where to watch live
The third free practice begins at 3am GMT, while the qualifying session starts at 5am GMT. Sky Sports F1 and Sky Sports F1 HD will provide live coverage of both events in the UK.
Real-time internet updates are available on the Live Timing section of the sport's official website.
Practice review
It was the Mercedes car leading the way yet again in both the practice sessions (FP1 and FP2) with Lewis Hamilton setting the quickest times. But the true pecking order was not established due to constant rain showers in between sessions. While cars were kept most of the time in the garage to saving intermediate tyres in case they are needed during in the weekend, especially for qualifying.
The highlight of the day was Nico Rosberg's crash in the second practice session. The German was on a quick lap when he slammed into the wall on turn seven bringing his session to an end. Red Bull Racing cars were busy compared to other teams, and looked quite competitive in wet weather conditions. The Ferrari of Kimi Raikkonen and Sebastian Vettel, who are supposed to be the Mercedes's real challengers, did not do too many laps.
The McLaren-Honda duo were the busiest in the second session completing 32 laps between them, as they look to get some data ahead of FP3 and qualifying on Saturday. Fernando Alonso and Jenson Button will be hoping that the team has made progress and they can challenge for a place in Q3 on 19 March.
Top 10 results of the second practice session from Albert Park, Australia:
1. Lewis Hamilton - Mercedes - 1:38.841 - 6 laps
2. Nico Hulkenberg - Force India - 1:39.308 - 8 laps
3. Kimi Raikkonen - Ferrari - 1:39.486 - 7 laps
4. Daniel Ricciardo - Red Bull - 1:39.535 - 9 laps
5. Carlos Sainz - Toro Rosso - 1:39. 694 - 16 laps
6. Fernando Alonso - McLaren - 1:39.895 - 16 laps
7. Jenson Button - McLaren - 1:40.008 - 13 laps
8. Sebastian Vettel - Ferrari - 1:40.761 - 7 laps
9. Sergio Perez - Force India - 1:41.256 - 8 laps
10. Daniil Kvyat - Red Bull - 1:42.411 - 10 laps
© Copyright IBTimes 2023. All rights reserved.