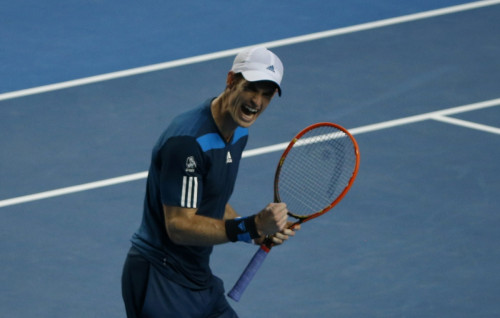 Andy Murray sealed his fifth successive Melbourne quarter final place after seeing off the plucky challenge of Stephane Robert in four sets at the Australian Open.
The British No.1 eased in to a two set advantage before his French opponent gave him his first scare of the tournament before succumbing to a 6-1 6-2 6-7 (6-8) 6-2 defeat, leaving Murray faced with the prospect of a quarter final clash with either Roger Federer or Jo-Wilfried Tsonga.
"He's a fun player to watch but not to play against," said Murray. "He made it very tricky for me, he's very unorthodox.
"You want to, if you can, close these matches out when you have the opportunity. I think I had three or four match points on my own serve. I tried to stay focused at the beginning of the fourth set, got an early break and that helped."
Robert, ranked 119th in the world, was no match for Murray in the match's opening two sets as the Scot surged into the lead and looked set to seal his progression in straight sets. But the 26-year-old appeared to take his foot off the gas and wasted two match points on his serve in the 10th game of the third set before allowing two more to pass him by in the tie-break.
Robert entertained the Melbourne crowd with his engaging brand of tennis but largely struggled to make a sizeable dent in Murray's defence, although his persistence would eventually pay off as he broke Murray's serve just as the Brit was on the verge of sealing victory.
The Frenchman raced into a 4-2 lead in the tie break before Murray regained the composure that saw him race into an earlier lead as he delivered three empathetic volleys and a powerful backhand to earn two match points.
Robert's endearing resilience would not diminish however, as he battled back to take the set much to the frustration of Murray, who smashed his racquet in anger as the contest shifted into a fourth set.
While it was just Murray's second tournament since undergoing back surgery in September, a tiring Robert began to wane as the Scot raced into a 3-1 lead. Having shaken off the frustration of the previous set Murray sealed the set in comfortable fashion 6-2 to secure a fifth successive quarter final place at the Australian Open.