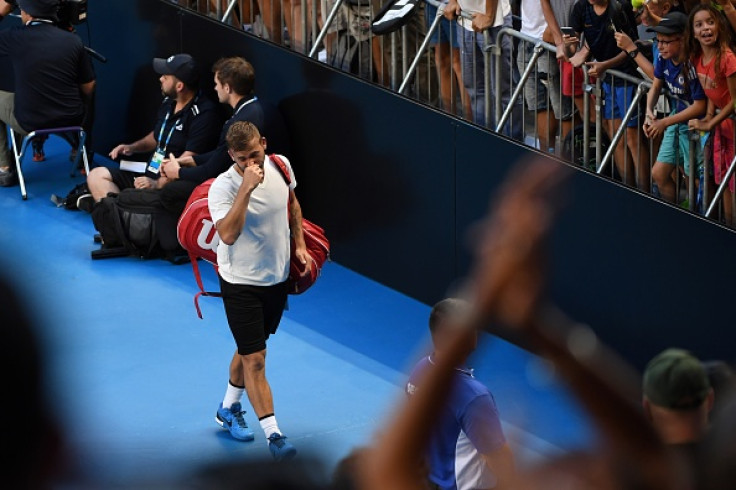 Dan Evans' dream run at the 2017 Australian Open was ended by Jo-Wilfried Tsonga with a 6-7 (4-7), 6-2, 6-4, 6-4 win in the fourth round, thus bringing an end to hopes for British men in the race for the singles title.
The British number three, who is ranked number 51 in the world at the moment is guaranteed a place in the top-50 following his run to the fourth round at Melbourne Park, his best in a Grand Slam event. Evans dispatched world number seven Marin Cilic and home favourite and 27th seed Bernard Tomic, but was unable to do the same to the Frenchman, who proved too strong in the end.
The 26-year-old started the match well and won the first set 7-6 in the tie-breaker, but was unable to cope with Tsonga in the next three sets. The second set saw him broken in the first and third games as the Frenchman raced into a 4-0 lead. Evans held his service games later, but Tsonga went on to wrap it up 6-2 in the eighth game.
The third and fourth sets saw just one break of serve in each, the first game in the former and the third in the latter, as Tsonga won the match in just under three hours.
"Dan played good tennis and he had nothing to lose. It was difficult for me because he was hitting the ball really early. After that the game was pretty difficult, then I went over him and finished strong," Tsonga said after the match, as quoted by BBC Sport.
"I've played pretty good since the start of the tournament. It will be a good challenge against Stan Wawrinka - he's playing unbelievably."
Meanwhile, Murray, who was dumped out of the Australian Open by Mischa Zverev, believes the German deserved to win the match as he played better during big moments in the game. The Scot was thoroughly outplayed during the three-and-a-half-hour match, but made it clear that he will bounce back from the disappointment.
"He deserved to win because he played great when he was down, and also in the important moments," Murray was quoted as saying by BBC Sport following his 7-5, 5-7, 6-2, 6-4 loss.
"I was kind of behind in the last couple of sets the whole way but I have had tough losses in the past and I have come back from them."