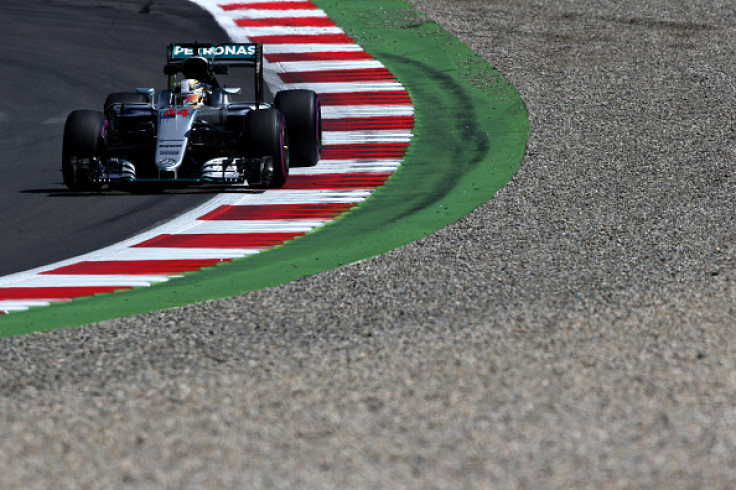 Lewis Hamilton claimed pole position in a frantic final few minutes of the Austrian Grand Prix, beating teammate Nico Rosberg by a matter of 0.5 seconds in qualifying. The session was marred by heavy rain and Rosberg will now start in sixth spot after being handed a five-grid penalty for a gearbox change after a crash in practice.
Force India's Nico Hulkenberg will move up to second on the grid, while McLaren's Jenson Button, who eventually finished in fifth place, will now start in third spot. Ferrari's Sebastian Vettel, who originally finished third in qualifying, will serve a penalty for an unauthorised gearbox change in practice and will start the race from eighth spot. Ferrari's Kimi Raikkonen was sixth ahead of Red Bull's Daniel Ricciardo, and will thereby be promoted to fourth and fifth on the grid.
Meanwhile, Button has predicted that the race to be a tightly fought affair, with none of the drivers having managed to close on the perfect choice of tyres, which would be beneficial on the track. The rain, which started in FP 2, led to a multitude of suspension failures across the track, with Force India's Sergio Perez and Toro Rosso's Daniil Kvyat feeling the brunt of downpour.
Perez managed to trundle back to the pits, but Kyvat suffered an accident for which the car had to be towed out of the track. The crashes were down to the new kerb design in the Red Bull ring, something to watch out for in the race.
Where to watch live
Race starts at 12.30pmBSTon 3 July, with Sky Sports F1 and Sky Sports F1 HD providing live TV coverage. Real-time Internet updates will be available on the Live Timing section of the sport's official website.
Top 10 results of qualifying session from the Spielberg Circuit, Austria:
1
Lewis Hamilton
Mercedes
1:07.922
2

Nico Rosberg (P*)



Mercedes
1:08.465
3

Nico

Hulkenberg

Force India
1:09.285
4
Sebastian Vettel (P*)

Ferrari
1:09.781
5

Jenson Button




Mclaren

1:09.900
6

Kimi Raikonnen



Ferrari
1:09.901
7
Daniel

Ricciardo

Red Bull Racing
1:09.980
8

Valtteri

Bottas

Williams
1:10.440
9

Max Verstappen

Red Bull Racing
1:11.153
10

Felipe Massa

Williams
1:11.977
P*: Both Rosberg and Vettel have been handed grid penalties.