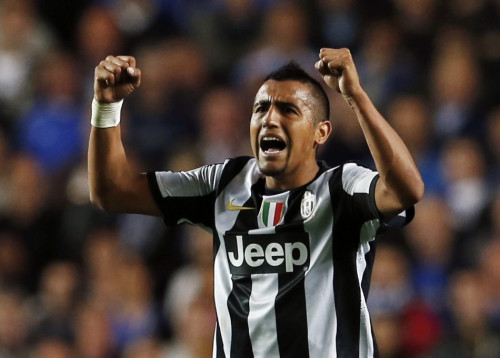 Manchester United have suffered a major blow in their pursuit of Arturo Vidal with the midfielder stressing in an interview that he will not leave Juventus in the near future.
The 26-year-old signed a new contract with the Turin-based club last summer and has revealed that he is happy to stay with the Serie A leaders and has not considered a move to the Premier League.
David Moyes had reportedly made him his prime target in January and had gone on a scouting trip to Italy to keep an eye on the midfielder but his recent comments have poured water over any such potential deal in January.
The former Everton manager has recently completed the signing of Juan Mata from Manchester United and Vidal's arrival would have given his midfield some much needed stability which they have been lacking through the length of the season.
However, the manager is likely to keep trying in the summer or move to other targets, which include players in the pedigree of Toni Kroos and Vidal's club teammate, Paul Pogba.
"Will I leave? No, I will definitely stay in Turi. I've scored 10 important goals for the team this season but I must give thanks to my team-mates. Against Lazio [after being reduced to 10 men in Saturday's 1-1 draw at the Stadio Olimpico], we showed that we never give in." the midfielder told Rai Sport.
The midfielder is valued at a remarkable €100m by Juventus' sporting director Guiseppe Marotta where he insisted that the player is in the same bracket as Gareth Bale in terms of talent.
The Chilean has scored 10 goals and assisted five in the league this season and is among the most versatile midfielders in the world in terms of current form.
"If (Real Madrid's Gareth) Bale is worth 100million euros, Vidal is also worth that figure. Vidal is a great player and this summer Real Madrid showed an interest in him but we turned it down. Selling him is simply out of the question," Marotta said.