Britain's housing market recovery is accelerating with the average price of a house seeing its sharpest annual increase in nearly four years.
According to the Office of National Statistics (ONS), UK house prices increased by an average of 9.1% in the year to February 2014, up sharply from January's 6.8% rise and the fastest rate since June 2010. The average house price is now £253,000.
Housing demand is soaring as the government's Help to Buy scheme makes mortgages cheaper and easier to access.
And the UK's economic recovery, which the International Monetary Fund (IMF) says is the strongest in the Western world, is strengthening – which has also added to demand.
A serious supply shortage has helped to drive up prices. Government estimates put the number of new homes needed annually in the UK at 290,500 to keep up with demand. But in 2013, just 133,670 new homes were registered by construction firms.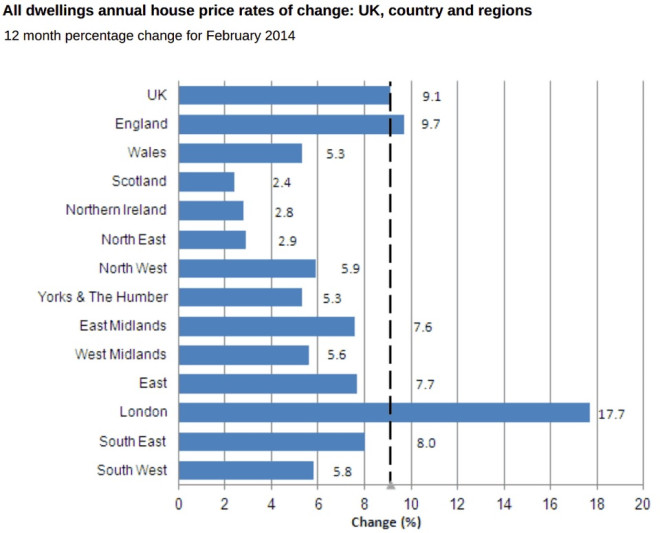 However, England is the only nation within the UK that has an average house price above its pre-financial crisis peak.
And within England, just three of the nine regions have prices at pre-crisis highs – east of England, south east and London.
It is London prices – where the ONS said the average rose by 17.7% to £458,000 – that are distorting the wider picture.
The supply and demand imbalance is a particularly acute in London. And high demand from wealthy foreign investors for central London property, many of who can pay in cash, is pushing up prices in the English capital.
Elsewhere in the UK it is a different story. Though prices are rising again in the north east of England, by 2.9% over the year to February, it has the lowest average price at £146,000 - three times lower than in London.
The average house price stood at £264,000 in England, £167,000 in Wales, £130,000 in Northern Ireland and £183,000 in Scotland.