Newcastle star Ayoze Perez has admitted that being linked with the likes of Manchester United and Tottenham "is incredible" but he is "happy" at St James Park. The Spaniard, nevertheless, claims that he is just focused on helping his side to turnaround the difficult start to the season after he stepped off the substitutes' bench on Sunday (13 December) to score an injury time winner in the 2-1 victory at White Hart Lane that lifts them out of the relegation zone.
The 22-year-old forward joined Newcastle in the summer of 2014 for around £1.5m after proving to be a sensation in the Spanish second division where he netted 16 goals in 34 appearances for Tenerife. Real Madrid and Barcelona then tried to lure him to their second teams but the Spaniard opted instead to move to the Magpies to have an experience in the Premier League.
Some in Spain then though he was going to struggle in the top flight but Perez proved the doubters wrong with a remarkable debut campaign in English football – scoring seven goals in 25 starting league appearances.
Mauricio Pochettino attempted to bring him to Spurs on deadline day last summer after failing to sign Saido Berahino, while The Telegraph recently revealed that Louis van Gaal is also considering whether to battle for his services in the January transfer window.
Perez is aware about the rumours but, speaking with IBTimes UK after scoring the winner over Spurs, he said that his only thought is to establish himself in the Newcastle line-up to help them to climb in the Premier League table.
"I just know the same as you. What I hear, what I read... It is a great pleasure for me [to be linked with Tottenham and United]. It is incredible, something very big and that's because I'm doing well but I must go on. It's my job," he said to IBTimes UK.
"You never know. Football takes many turns. Today in fact I am a substitute [at Newcastle]. I am working hard to be in the manager's starting plans. That's all I think: to work. Then the fruits arrive. I am very happy at Newcastle. They gave me everything, they made me professional. I want to continue working with them, trying to climb on the table and then whatever have to happens will happen."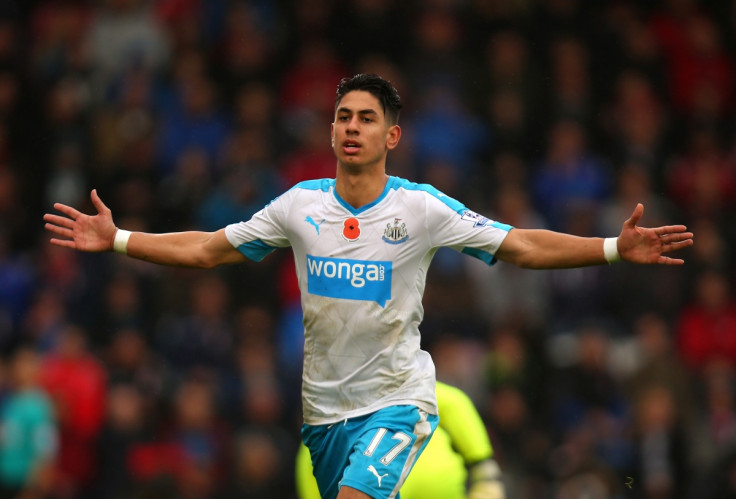 Perez, nevertheless, admits that White Hart Lane is a special place for him – and that Pochettino is a manager who he admires. He eventually scored his first Premier League goal at North London in a 2-1 victory last season and did it again on Sunday to give Newcastle their second consecutive win following the previous victory over Liverpool.
"It is a very special place. I scored my first goal here and today the history repeats itself. I have a good memory of this stage," Perez said, while asked whether Pochettino told him anything, he added: "I have a good relationship with Mauricio. He is a great coach. We talked about how we are and not much more. It's good to see him again and I wish him luck for the season."
Time will tell whether one day the pair are reunited at North London. In the meantime, Perez will keep working to get a place back in the Newcastle line-up to improve his last season record after having already scored four goals in 10 starting appearances this term.
"In the Premier League there are many rotations. I respect that. And what I have to do is try to take the minutes I have. I have had some talks [with McLaren]. He knows what I can give to the team. And if he sees that I'm not at my best, there is no problem to start on the bench. I accept that but working to return to the team. This is my job. Like today. Trying to make impact when coming to the bench and then let's see what happen in the next games," he said.