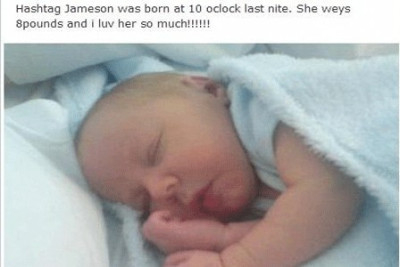 A Facebook user has guaranteed that her newborn baby girl will always be a trending topic after announcing that she had called her Hashtag.
The unidentified new mother is at the centre of an internet row after revealing that she had named her daughter after the popular Twitter symbol.
She announced the wacky moniker by posting an accompanying photo of a sleeping baby. "Hashtag Jameson was born at 10 oclock last nite. She weys 8pounds and i luv her so much!!!!!," the photo's caption reads.
Although it is remains unclear if "Hashtag" is the infant's legitimate name or if it simply all a hoax, the mother has already come under fire from the online community.
One outraged Twitter user wrote:" Apparently a mother has named her baby 'Hashtag.' There are so many reasons why that's horrendous, I just don't know where to start,"
Another user said: "What do you expect from someone that can't spell "weighs" with friends that don't know it's "your" not "you're".
IBTimes UK recaps some of the weird and wacky celebrity baby names that are just as awkward as Hashtag Jameson.