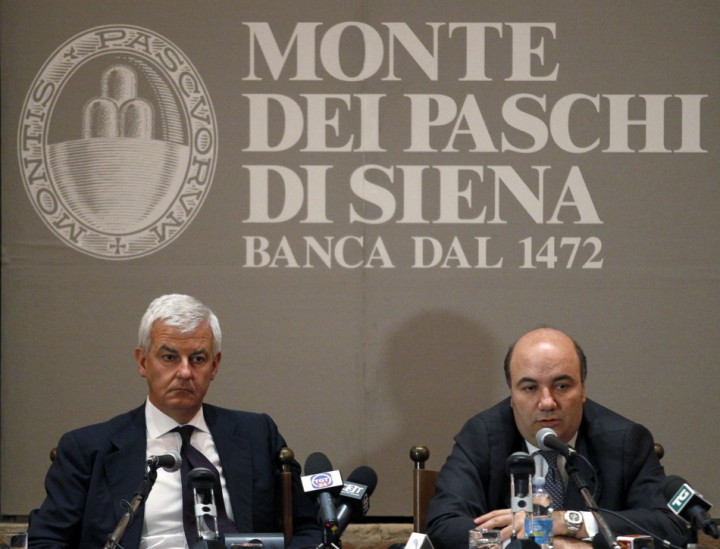 Banca Monte dei Paschi di Siena (MPS), which is now the first of the country's banks to receive some form of state aid, unveiled an aggressive set of plans to shore up capital from state-backed instruments while also severely cutting costs.
In a statement, MPS said it will start procedures for obtaining issuance by the end of current year of €3.4bn worth of new government-sponsored capitalisation instruments for capital requirement purposes, under European Union legislation, of which €1.9bn for repayment of currently outstanding Tremonti Bonds.
It adds that it is also looking to repayment approximately €3bn in bonds within the "Plan" by 2015.
The lender also said it is seeking to raise a further €1bn from private investors, while also offering to swap subordinated for senior debt securities maturing in 2015 to bolster its capital base.
Within the plan, MPS also delivered a tough set of measures to cut costs.
The lender said it expects revenue to remain flat for the next 3 years, despite planning to sell a number of assets and cut jobs.
MPS will raise up to €223m by selling its majority stake in its northern Italian unit Biverbanca, as well as closing 400 branches and eliminating 4,600 jobs to boost profit.
Shoring Up Capital
The European Banking Authority (EBA) published its formal Recommendation in December last year, and the final figures, related to banks' recapitalisation needs, which revealed that European banks must raise €114.7bn of additional capital buffers by June this year, which is 8 percent more than its initial estimate of €106bn.
The EBA also revealed that a number of Italian banks had a significant shortfall on their balance sheets with MPS needing €3.267bn by the end of June this year.
Top management at the bank suggested it could issue contingency capital bonds to fill the remaining capital hole, after the EBA findings were released.
MPS shares have risen for the first time this week, by €0.63 as of 1109 GMT at €0.19, after MPS marked out a clear plan to cut costs and shore up capital.