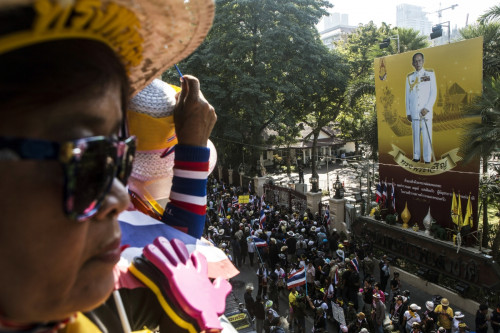 The situation in Thailand has worsened with anti-government protesters threatening to bring down the stock exchange and the national airlines in the capital Bangkok if caretaker Prime Minister Yingluck Shinawatra does not step down immediately.
Determined to take on the interim government, hardline opposition group Students and People Network for Thailand's Reform (STR) has said it will march towards the Stock Exchange of Thailand (SET) and Aeronautical Radio of Thailand (AeroThai) shortly.
If the protesters take control of the AeroThai services, it will severely affect both the domestic and international travel in the southeast Asian nation.
"If Yingluck does not resign by then [20:00 local time], the STR will block the stock market and the Aeronautical Radio of Thailand office," said STR activist Uthai Yodmanee, the Nation reports.
Thai authorities have warned against any such rallies targeting state-run offices. Interim Transport Minister Chadchart Sittipunt insisted those who attempt to seize control of government buildings will face terrorism charges.
Security has been beefed up both at the stock exchange and the airline offices amid the volatile situation. Scores of police and army personnel have been deployed to avoid any untoward incident.
Nonetheless, People's Democratic Reform Committee (PDRC), the main opposition group spearheading the anti-government rallies, has said it does not intend to seek control of either the stock exchange or AeroThai.
"The PDRC wants the public to be minimally affected by its movement, and to leave them options for commuting," said the group's spokesperson Akanat Promphan.
The latest developments have come in the wake of snowballing demonstrations in Thailand, a part of which is threatening to turn violent.
A loud explosion was reported outside an opposition leader's house in Bangkok, but no one was injured in the incident.
Gunshots have also been heard in the Thai capital, where anti-government protesters have camped. Reports said two persons were wounded in the firing.
Thailand has been grappling with serious anti-government protests that forced the prime minister to dissolve parliament and call for fresh elections on 2 February.
The anti-government protests were originally set off by a controversial amnesty bill which might have allowed Yingluck's brother and former leader Thaksin Shinawatra to return from his self-imposed exile.