A huge megathrust earthquake could strike Bangladesh in the relatively near future, potentially affecting 140 million people in the region and leading to the complete abandonment of Dhaka. Researchers have found evidence of huge strain building at two tectonic plates beneath the world's biggest river delta. They say the strain has been building for at least 400 years, and when it is released could result in an earthquake of magnitude 9.
Their findings, published in Nature Geoscience, follow long-held speculation that there could be a hazard lurking beneath Bangladesh. It had been thought the plate boundary in this region was sliding horizontally near the surface, which does not lead to too much damage. However, this is not the case.
The subduction zone studied is an extension of the one that caused the 2004 Indian Ocean earthquake. It is part of a giant plate that has been moving in a north-east direction into Asia for millions of years. Pressure from the collision – which resulted in the creation of the Himalayas – has resulted in a clockwise movement, with Asia being pushed around the top of Bangladesh.
Scientists have been tracking tiny ground motions with GPS since 2003. Data has shown eastern Bangladesh and part of eastern India are pushing into western Myanmar at a rate of around 46mm per years. Most of the strain has been taken up by surface faults in Myanmar, but the remainder has been shortening the distance between Bangladesh and Myanmar – shortening they interpret to mean subduction is taking place. They estimate the affected area to be 250km by 250km, or 24,000 square miles, and that this includes the capital of Dhaka where 15 million people live.
Subduction zones are areas where one tectonic plate slides under another. Sometimes sections get stuck, pushing against each other for centuries. When they finally slip, the resulting movement becomes an earthquake. Until now, all zones like these were only found under the ocean. This is the first to be find entirely under land, potentially making the threat far worse.
Assuming movement has been steady over the last 400 years, enough strain should have built up for the zone to jump 5.5m all at once. If the strain has been building longer (400 years is the minimum), it could move 30m.
"Some of us have long suspected this hazard, but we didn't have the data and a model," said lead author Michael Steckler, from Columbia University's Lamont-Doherty Earth Observatory. "We don't know how long it will take to build up steam, because we don't know how long it was since the last one. We can't say its imminent or another 500 years. But we can definitely see it building."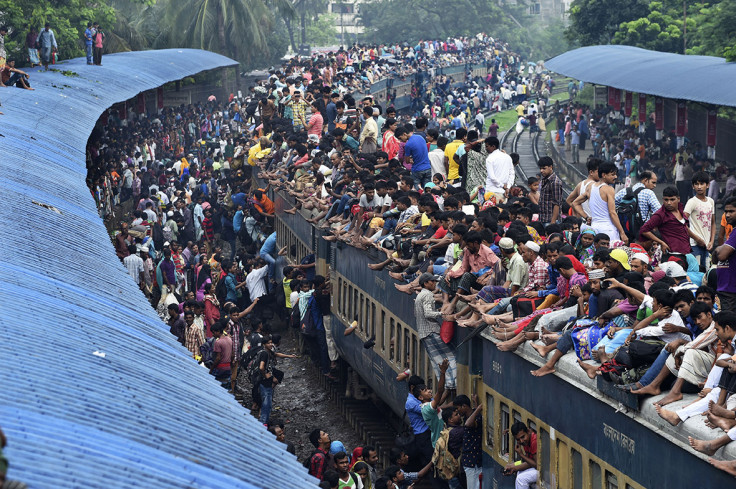 If it did strike, however, damage would be catastrophic. Study co-author Syed Humayun Akhter, from Dhaka University, said Bangladesh is not prepared for a megathrust earthquake. Poor construction, a huge population and a fast-growing infrastructure means the scale of destruction would be huge.
"Bangladesh is overpopulated everywhere," he said. "All the natural gas fields, heavy industries and electric power plants are located close to potential earthquakes, and they are likely to be destroyed. In Dhaka, the catastrophic picture will be beyond our imagination, and could even lead to abandonment of the city."
Scientists are now further assessing the risk and plan to deploy seismometers across Myanmar to get a better understanding of the sunduction zone. James Ni, a seismologist at New Mexico State University, said an earthquake could turn parts of India "into ruins". "We don't have a good idea of its geometry, we don't know how far it goes down. We need more data," he said.