A weird-looking fish, usually found in the deep water of Chesapeake Bay in Virginia, US, was found on a beach, lurking just beneath the surface of the stand. Photos of the Northern stargazer were shared online by surfing company East Coast Surfing Championships, warning beach-goers: "Watch your step".
Northern stargazers are normally found at the bottom of Chesapeake Bay, reaching depths of around 120ft (37m). They are predatory fish, feeding on small fish and crustaceans. They bury themselves under the sand, with their eyes and mouth sticking out (see picture). When something edible swims by, they create a vacuum with their mouths and suck it in.
They pose little risk to humans, although they do have a specialised organ located behind its eyes that it uses to create weak electrical currents to protect itself from harm. Northern stargazers are found along the western Atlantic Ocean, from New York down to south-eastern Florida.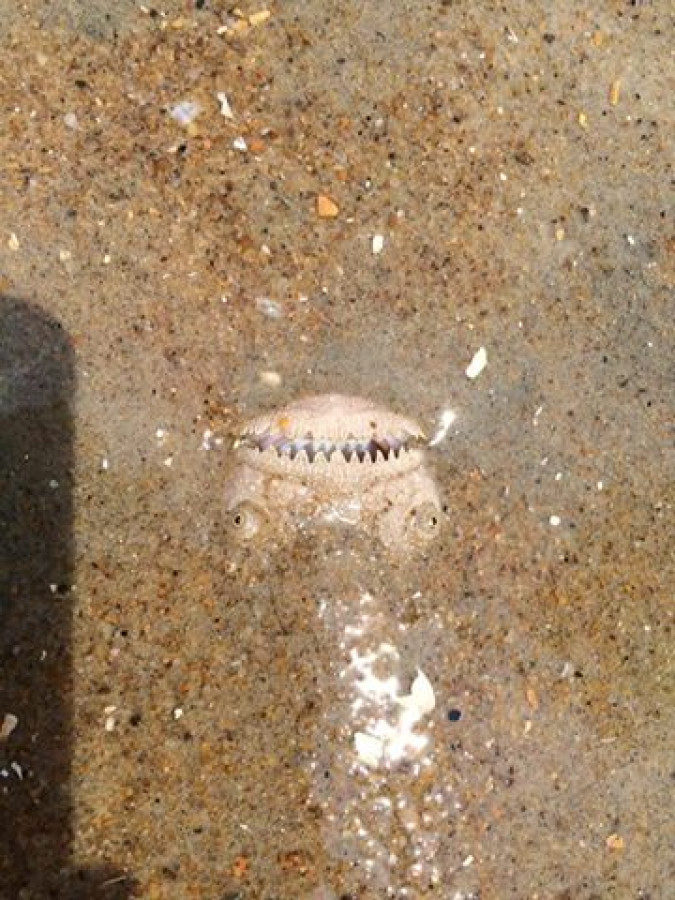 Images of the Virginia Beach stargazer were taken by Ashley Raper Starr. She told IBTimes UK: "My niece, Cara Hotaling, saw the fish first. We were all curious as to what that could be making bubbles in the sand ... We were all so surprised and interested to see that face! I have never seen one on the beach and I grew up here and have spent much time on these beaches. This was such a surprise."
After taking a few pictures, Starr's brother in law borrowed a bucket from some children nearby and threw it back into the sea: "It was alive and well when we found it and sent him back into the water," she added. It is not known how it ended up on the shore.
In its Facebook post, the ECSC said: "A friend of ECSC came across this stargazer while walking in Virginia Beach (note: these animals tend to live in the deep waters of the‪ Chesapeake Bay) but this one was found ocean side. Stargazers bury themselves in the sand in order to ambush prey. Their secondary gland creates an electric which makes them a serious predator. They do not pose any real threat to humans, but they sure look menacing. Too cool. Watch your step."