The Bank of England (BoE) is expected to take a call on whether to extend its £325 billion quantitative easing to support the economy when it meets this week, as it cannot ignore Britain's above-target inflation even though official data show the country is back into recession.
After buying £50 billion of government debt with newly created money, which have been purchased in the last three months, the BoE is expected to judge that its policy stance is already enough.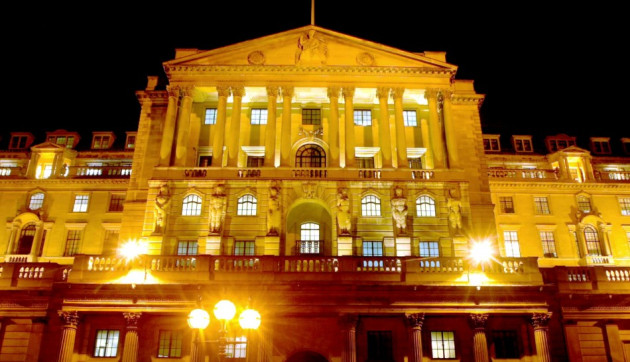 "There is no doubt that the QE decision is more difficult than ever due to the recent weak run of data. I suspect that the MPC will take the view that whilst more QE is possible in the longer-term, it makes sense to keep its powder dry in the event that it is required to step in to support markets," said Peter Dixon at Commerzbank and added that the BoE would pump an extra £25 billion at some point in the future.
Many of the economists do not expect more QE this month though Britain's economy shrank 0.2 percent in the first three months of 2012 after a 0.3 percent decline at the end of 2011, pushing Britain into recession.
The Monetary Policy Committee's biggest worry is that they might have underestimated when they forecast in February and earlier that inflation would be below their 2 percent target by the end of 2012.
Inflation surprisingly rose to 3.5 percent for the first time in six months in March, compared with the first quarter forecast of 3.35 percent in February.
"They're going to end up with an inflation profile that is substantially higher in the short-term. The notion that there will be a significant undershoot is hard to believe," said Jens Larsen, a former BoE economist who now works at RBC.
Despite slow business in the service sector during April and a fall in the Markit/CIPS Purchasing Managers' Index (PMI) to 53.3 from 55.3 in March, the firm's optimism increased to a two-year high and hiring picked up pace.
"It's a patchy picture, but there are indeed signs of a recovery coming. So I think a reasonable view would be that we would start to see steady, slow recovery coming during the course of the year," said BoE Governor Mervyn King in an interview with BBC Radio 4.
According to King, more optimistic business surveys and employment data, as well as reports from the BoE's local agents suggest that a slow recovery is on its way.
"The economy faced a long and difficult recovery in 2012, with substantial headwinds from the euro zone and high oil prices, echoing King's view," said the Confederation of British Industry, a leading business lobby.
Before the QE, the Bank had slashed interest rates to 0.5 percent and, according to polls, it is not expected to increase rates until 2014 at the earliest.
"Lingering risks, underlying weakness and uncertainty suggest the BoE will keep UK interest rates on hold at their record low of 0.5 percent for some time," said Melanie Bowler at Moody's Analytics.