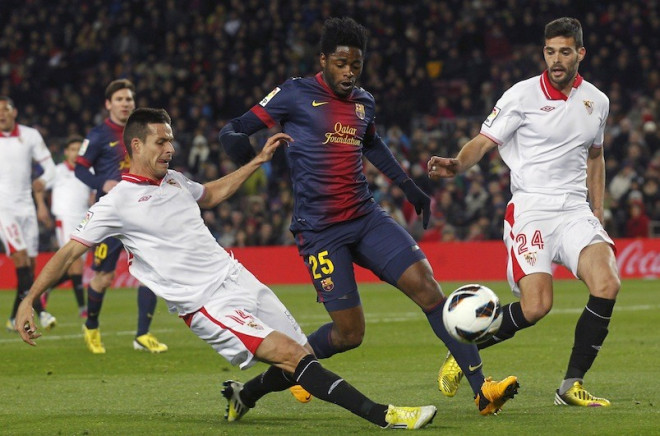 Barcelona midfielder Alex Song is reportedly looking to move back to the Premier League and wants to rejoin Arsenal during the upcoming transfer window.
The Mirror's report claims that the Cameroon international has been told that he can leave the Catalan giants during the summer. Last month, Song had revealed that should he decide to leave Spain, it will only be to join an English club.
He is also reported to have stated that he considers the club's manager Arsene Wenger like a fatherly figure, which gave rise to hints of his intentions to return to Arsenal.
Song previously spent time in England with the Gunners from 2005 till 2012 before joining his former colleague Cesc Fabregas at Nou Camp. The 26-year-old, who has over three years left in his current contract, is reportedly frustrated with the Spanish champions due to lack of first team opportunities.
Last campaign, Song made only 20 appearances in La Liga and this season he has only 17 league appearances under his belt.
Roberto Martinez is also said to be keeping a close eye on Song's situation at Barcelona. The Spaniard is keen to bolster his Everton squad hoping to push for a top four place next season.
But the former Gunners' midfielder is not interested in moving to Merseyside and wants to join a club based in London.
Wenger is not short of midfielders in his squad with the likes of Aaron Ramsey and Jack Wilshere to name a few. But the season's wear and tear had significantly hampered their performances, which saw them fall out of the title race this campaign.
Additionally, Mikel Arteta is 32 and Arsenal are believed to be seeking a long-term replacement for the Spaniard, with Bayer Leverkusen midfielder Lars Bender being reported to be one of the targets.
Last summer, the Gunners' boss brought back former midfielder Mathieu Flamini to north London having sold his compatriot to AC Milan in 2008. Wenger could consider a move for Song if he extends his stay at the Emirates, given that the Cameroonian featured regularly in his starting XI.
Manchester United too were reported to be considering a move for Song as Barcelona were willing to cash in on the player. But since then, David Moyes' sacking by the Red Devils may also bring about a change in the club's transfer targets during the transfer period.