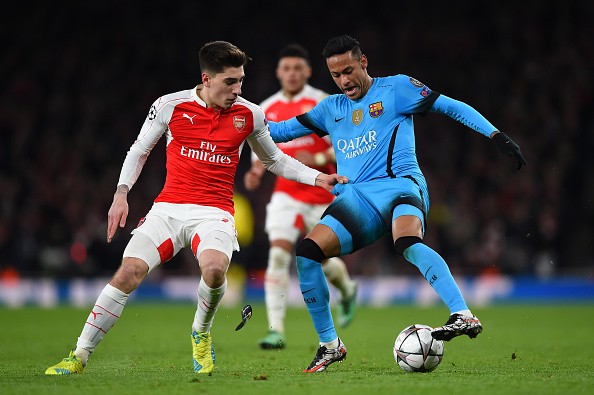 Barcelona will make a move to lure Arsenal starlet Hector Bellerin back to the Camp Nou should Dani Alves finally leave the La Liga giants, according to Mundo Deportivo. The Spanish publication claims that the Gunner right-back is expected to become into one of the hottest prospect of the summer transfer window after Bayern Munich have already expressed its interest in securing his services, with Paris Saint Germain, Manchester City, United and Chelsea also monitoring the situation.
Bellerin moved to the Emirates Stadium in 2011 after deciding to follow the footsteps of the likes of Cesc Fabregas by leaving the prolific Barcelona academy for a chance in the English football. The 21-year-old star took advantage of Mathieu Debuchy's recurrent injuries during last season to break through into the first-team until becoming into a crucial asset in Arsene Wenger's line-up.
Mundo Deportivo claims that Bellerin's impressive development have attracted the interest of a number of Europe giants which could be ready for a battle in the summer.
The Spanish publication claims that Bayern Munich have already contacted Bellerin's agent, Albert Botines, to beat other suitors as a personal request of future manager Carlo Ancelotti. PSG are also interested in the player amid the uncertain situation of Serge Aurier while Pep Guardiola, United and Chelsea are also monitoring the situation.
Barcelona, meanwhile, are also on alert amid the recurrent reports linking Alves with a move away. The Champions League winners are not looking to sign a right-back this summer as the priorities are a centre-back and a forward, having already Alves himself, Aleix Vidal and even versatile Sergi Roberto for the role. Yet the report claims that the situation could change should the Brazilian leaves the club after Mundo Deportivo themselves reported last month that he had received a three-year offer worth €36m (£28.4m $40.6m) to move to a Chinese outfit.
Barcelona and Alves have since claimed that the intention is the Brazilian to stay but Mundo Deportivo reports that in case he leaves Bellerin would be the top priority to fill his gap. The Arsenal star, however, has claimed during an interview with Goal that he is very happy at Arsenal after last summer he signed a new deal to commits his long-term future to the Gunners until 2019.
"I left Barca without looking back. I left focused on London and Arsenal and I am really happy there. I signed a new deal last year and there's still a lot in front of me. It's a club that's forming a great team, with players like Alexis Sanchez and Mesut Ozil," he said. "My future is there and I am happy where I am. A lot of things can happen in football, but I am at Arsenal, giving my all for the club. I am not thinking of going anywhere else."
Should Bellerin decides to snub a return to Barcelona Mundo Deportivo claims that the La Liga giants have a list of alternatives, with Valencia's Joao Pedro Cavaco Cancelo and Italian duo Alessandro Florenzi and Mattia de Sciglio among the candidates.