Catalan newspaper Sport has encouraged Barcelona in its front page to secure Luis Suarez's services, claiming the Liverpool striker "would be the ideal signing to let the club recover its title hunger" following the Uruguayan international biting of Italian centre-back Giorgio Chiellini.
Suarez appeared to bite the Juventus defender in the 80th minute of Uruguay's World Cup victory over Italy on Tuesday evening, with the Liverpool striker now facing a Fifa ban.
The Premier League player of the year has already been banned twice in his career for biting Chelsea's Branislav Ivanovic in 2013 for 10 games and for sinking his teeth into PSV Eindhoven's Otman Bakkal for 7 games.
Recent reports in Spain claimed Barcelona are in advance negotiations with the player regarding a summer move, with Suarez having already informed his close friends he is likely to move to the Nou Camp.
Spanish newspaper Sport, far from condemning his latest outrage, has urged Barcelona to complete the move for the Liverpool star.
In its front page Sport said: "Barcelona, he indeed bite. Suarez is the ideal signing in order for Barcelona to recover their title hunger."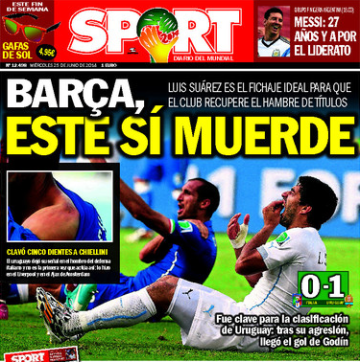 However, Mundo Deportivo believes that Suarez's latest behaviour could complicate his move to the Nou Camp, as Barcelona faces a real dilemma about the advantanges and disadvantages of singing a temperamental player like the Liverpool forward.
Furthermore, the AS editor added in his daily column: "It was too disgusting and absurd. It was the third time, it was the negation of sport and a harmful image for football. And since both Real Madrid and Barcelona are interested in this striker, I encourage them to look for someone else".
Meanwhile, Suarez himself has responded to the accusations claiming that kind of situations are normal in football.
"These situations happen on the pitch, we were both just inside the area, he struck me in the chest with his shoulder and he hit me in the eye as well," he said.
"These are things that happen on the pitch and you shouldn't attach so much importance to them."