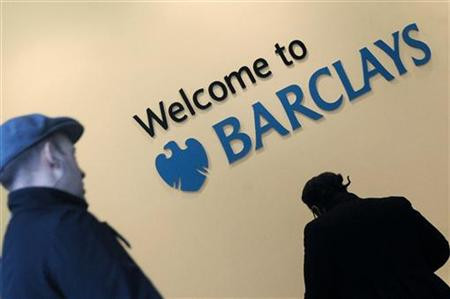 Shares in Barclays were down on the FTSE 100 ahead of the banking giant's first half results, which are due out tomorrow and are expected to show an increase in profits.
In the first quarter the bank, which like HSBC did not need a government bailout, saw a recovery in its retail arm thanks to an improving domestic economy.
However profits are expected to be dragged somewhat to subdued conditions in investment banking, despite the bank acquring significant assets from Lehman Brothers when it collapsed in 2008.
Last year Barclays reported half year profits of £2.7 billion, a figure that is expected to rise when results are announced tomorrow to £3.5 billion.
If the results are as expected Barclays will be the fourth out of the five major banks to report an improvement in its performance from last year.
On Monday HSBC said it had doubled its profits to $11.1 billion, while today Standard Chartered reported a rise in profit of 10 per cent to $3.1 billion and part-nationalised Lloyds Banking Group turned a £4.0 billion loss into a £1.6 billion profit.
Keith Bowman, analyst at Hargreaves Lansdown said of Barclays shares, "Market consesus opinion ahead of the results also currently denotes a buy".
By 16:10 shares in Barclays were down 1.40 per cent on the FTSE 100 to 337.95 pence per share.