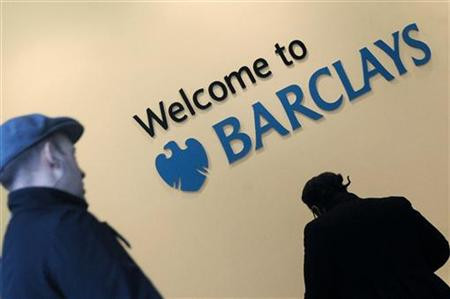 Shares in Barclays bank were up on the FTSE 100 thanks to positive comments from Morgan Stanley about the banks prospects compared with that of its rivals.
Morgan Stanley said that it expected Barclays investment banking division to be a driving force in generating profit for the bank, which is also likely to pay a dividend, unlike part-nationalised banks Lloyds Banking Group and RBS.
Barclays strength in investment banking was boosted significantly when it managed to acquire the investment banking and trading divisions of Lehman Brothers following its collapse.
Morgan Stanley said that while Barclays was expected to perform well this year a weaker economic recovery and higher costs could prevent Lloyds Banking Group from reaching its earnings estimates after 2010.
Today Barclays shares were the only ones to rise among the "big four" British banks on the FTSE 100 in morning trading, with RBS and HSBC both falling thanks to continued fears about sovereign debt in the eurozone.
By 10:12 shares in RBS were down 0.05 per cent to 43.16 pence per share, HSBC shares declined 0.49 per cent to 648.10 pence per share, while Lloyds Banking Group shares were flat at 54.90 pence per share.
Barclays shares rose 1.02 per cent to 301.20 pence per share.
Overall the FTSE 100 was up 0.04 per cent to 5,204.06.