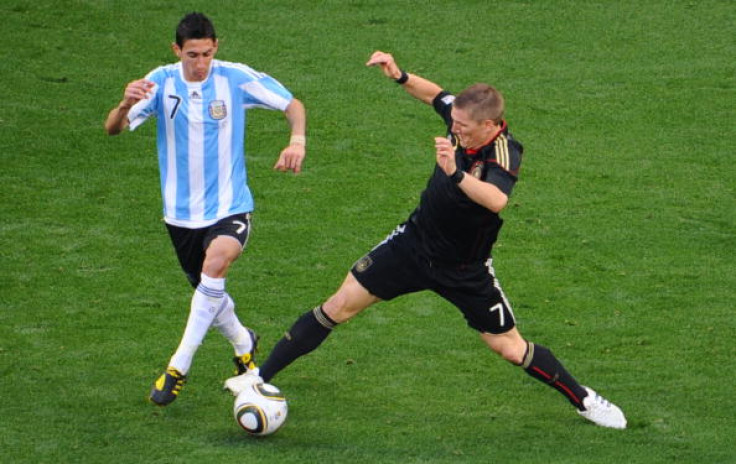 Bayern Munich president Karl-Heinz Rummenigge has completely dismissed reports suggesting that the German giants are planning a player-plus-cash deal with Manchester United involving Bastian Schweinsteiger and Angel Di Maria.
A report on German publication Sport Bild, suggested that the Argentine, who had a difficult first season at Old Trafford, was going to be allowed to move to the Allianz Arena, which involved Bayern parting with Schweinsteiger and a fee for the player.
However, the Bavarian giants' chief has made it clear that such a thought was never a part of "anyone's thinking either in Munich or Manchester".
"For once I can completely deny that. It's never been discussed and was never part of anyone's thinking, neither here in Munich nor in Manchester," Rummenigge said, as quoted by Bavarian Football Works.
The president of Bayern also reiterated his stance on responding to rumour stories, but admitted that he does find reading them amusing. He also gave a special mention to the British press, suggesting that most of the rumour stories are 99% untrue.
"The rumor mill is grinding away every day. I have no interest and also no desire to be denying or confirming things every day. I read this stuff in the evening before going to bed and I always drop off to sleep feeling jolly and grinning," he said.
"You shouldn't believe there's much truth in every rumor, especially if it's come from England. The proportion of untruth in the stories I'm reading at the moment is 99 percent," the Bayern president explained.
However, both the players are linked with a move away from their respective club in recent days, with French newspaper Le Parisien suggesting that Di Maria is close to a move to Paris Saint-Germain, while, the Bild reports, that United have made a concrete offer for the German international, with the offer of a two-year contract to move to Old Trafford in the summer.