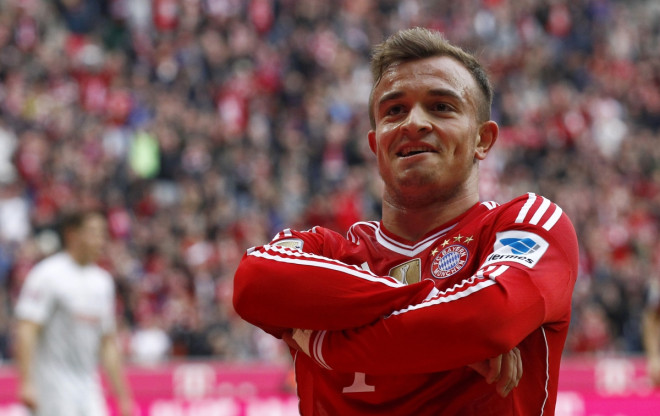 Bayern Munich winger Xherdan Shaqiri will listen to summer offers from both Manchester United and Liverpool, according to his agent.
The Swiss international has struggled to impose himself on the first team at the Allianz Arena since Pep Guardiola took over during the summer, despite receiving assurances that he remains in the Spaniard's first team plans.
Shaqiri has appeared in just 14 Bundesliga games for the club this season - just eight of which have come as starting appearances - prompting speculation that a summer exit beckons with United and Liverpool both credited with interest.
And Erdin Shaqiri, Xherdan's brother and agent, insists the winger is likely to consider offers from elsewhere should his situation at Bayern not change.
"Xhedran is 22. At this age he needs to play regularly, which is currently not the case," Erdin told Swiss daily Blick.
"We are waiting now until the summer. Then when clubs like Liverpool, Manchester United, Inter Milan and other top clubs come, we will listen.
"Bayern still remain our first point of contact before we talk to other clubs."
United and Liverpool are likely to face stiff competition from clubs across the continent should Shaqiri push for a summer exit, however. The former Basel starlet recently indicated Italy is also an option that interests him, in addition to remaining in the Bundesliga.
"I cannot say anything to this. I am feeling good in Munich but as a player you have to listen, if one of these clubs top clubs is interested," Shaqiri said earlier this week.
"I hear the interest from Borussia Monchengladbach for the first time. You have to ask Gladbach. I cannot say anything.
"Bundesliga is the best league for me, but I also like the Premier League and Serie A. In Serie A many teams have developed well with nice players."
Guardiola recently indicated that Shaiqiri is his "most important substitute" at the club, a label that may not satisfy the Switzerland international for much longer. The midfielder faces considerable competition for a first team role from the likes of Arjen Robben, Franck Ribery, Toni Kroos, Mario Gotze and Thomas Muller and made find a future offer of a consistent first team role too good to turn down.