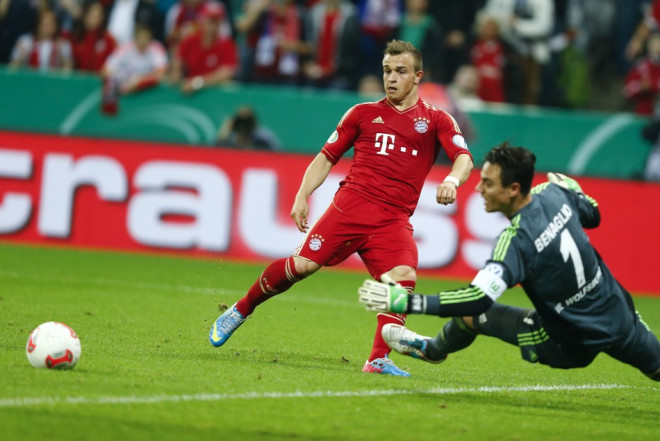 Bayern Munich's Xherdan Shaqiri has revealed he is flattered by the rumours linking him with a move to Liverpool.
The Switzerland international joined the Bundesliga outfit from FC Basel in 2012. Since his move to the Allianz Arena, the winger has failed to feature regularly in Bayern's starting XI either under the former boss Jupp Heynckes or their current manager Pep Guardiola.
Shaqiri's lack of playing time with the treble winners has seen him linked with a move away from the club in recent times. Brendan Rodgers was reportedly keen on signing the Champions League winner in January after the Reds lost Mohamed Salah to Chelsea.
The Merseyside club, along with Italian giants Juventus and Napoli are still believed to be interested in Shaqiri, according to Goal.com. The 22-year-old has hinted a move to the Premier League could still be on the cards.
"When you hear these names, of course you have to listen to the offer, but there is nothing concrete. The Bundesliga is the best league for me, but I also like the Premier League and Serie A. In Serie A many teams have developed well with nice players," Shaqiri told Goal.com
"I cannot say anything to this. I am feeling good in Munich but as a player you have to listen, if one of these top clubs is interested. I hear the interest from Borussia Monchengladbach for the first time. You have to ask Gladbach. I cannot say anything," he added.
Shaqiri has made 14 league appearances for Bayern under the former Barcelona manager, which includes only eight starts. He has scored five goals in the process.
Liverpool registered a 3-0 victory over Manchester United in their latest league fixture at Old Trafford. The Anfield club are second in the table with 62 points from 29 games, four points behind league leaders Chelsea.
The Reds were favourites to seal a place in the next season's Champions League and are in contention to win the Premier League title this season. A move for Bayern winger in the summer could further strengthen the squad and his European experience could be vital for Liverpool.